The River Beatrice entered service in 2009 and is in remarkable shape for her age. Even so, she will have a total refurbishment starting in November.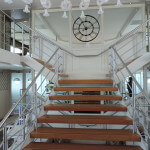 She has an English Club feel, warm old world ambiance and elegance without pretension.
Standard cabins are nice in size and well-furnished with the feel of a luxury hotel. With the exception of the lowest deck, all cabins have French balconies.
The ship is spotless and kept so by smiling and friendly crew. Over a casual lunch with the Hotel Director, she tells of the training, the scheduling, the care and the attention of the crew. Through the years I have always noticed that the happiness of the crew directly affects their ability to care for passengers. Thus, I saw many smiling, happy passengers.
Demographics are generally mature, however activities vary from gentle to active. Bikes are available and also offered as an organized escorted tour. As I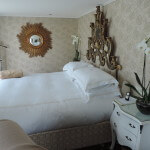 write this, I see a few passengers striking out to explore Budapest by bike.
The dining room is large and uncrowded. Breakfast and lunch is buffet style and dinner is served. Â There is a pub menu at the bar and two coffee-tea stations. Three nights a week, alternative dining is available. Uniworld is all inclusive. Several shore excursion options of varied activity levels are available each day in port.
There are two entertainers on board and local entertainment is also presented several times a week.
There is a library-computer-game area aft off of the Captain's Lounge.
The captain is visible and friendly and there is an open bridge policy.‎
(Written during a ship inspection, April 2015.)
Linda will be sailing aboard the Uniworld SS Maria Theresa in April, 2016.  Check back for details of this tulip time cruise.