Victorian opulence meets modern day comfort with a serving of Americana.
River cruises on American Queen are so unique that they really don't fit into even the river cruise category. Unusual in the number of passengers for a river ship with more than double the occupancy of most river vessels but with a big heart.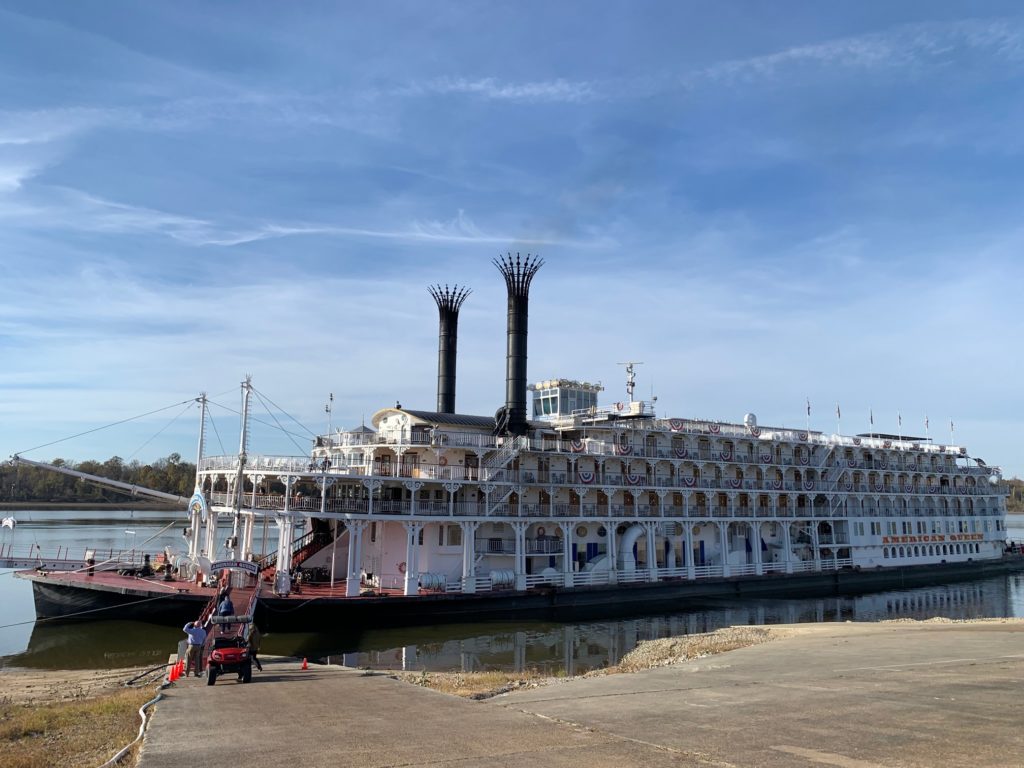 The Queen sails from early February through the holidays on the Mississippi and her tributaries. There are several theme cruises including the holiday sailings with a fully decorated boat as well as decorated historic homes. US flagged the mostly American crew is pleasant, helpful, and friendly. After sailing I can see why some of the lesser-known itineraries are so popular since passengers cruise for the experience after an initial New Orleans to Memphis cruise.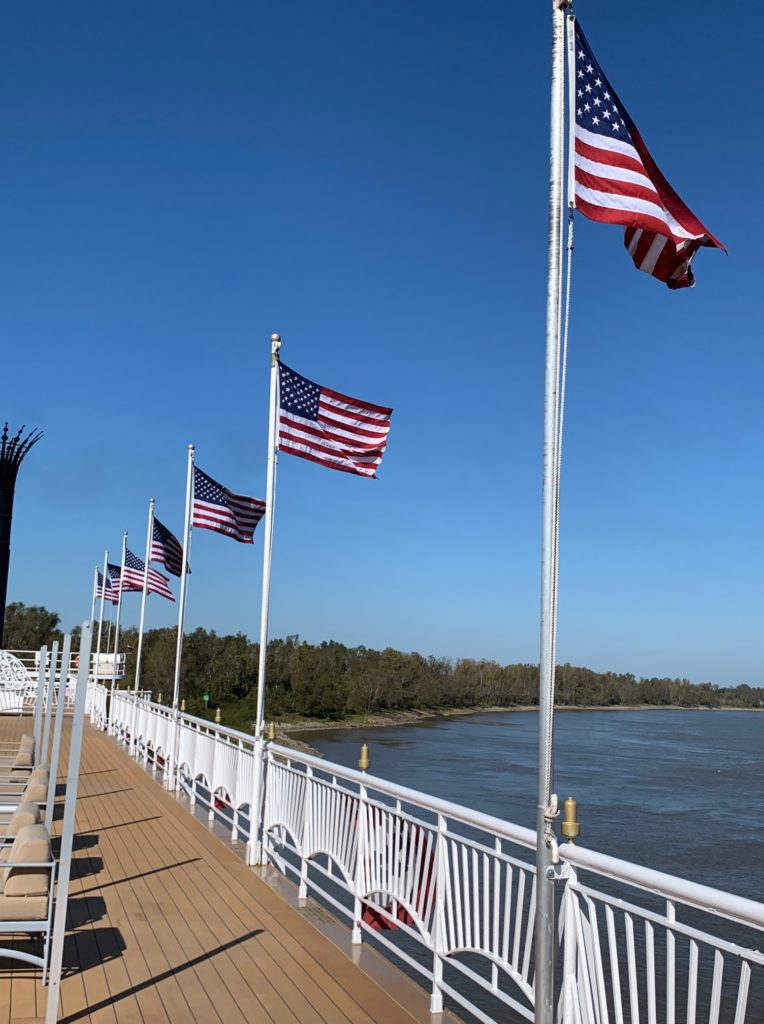 The magic of the paddle wheel is captivating. There is a balcony area beside it on deck 2. Don't hesitate to pop down the stairs to the engine room to chat with the friendly crew. The amount of open deck areas with comfortable chairs and amenities is impressive. Our sailing was not at capacity, but it felt that if the vessel was at capacity that desirable deck space would be more than adequate.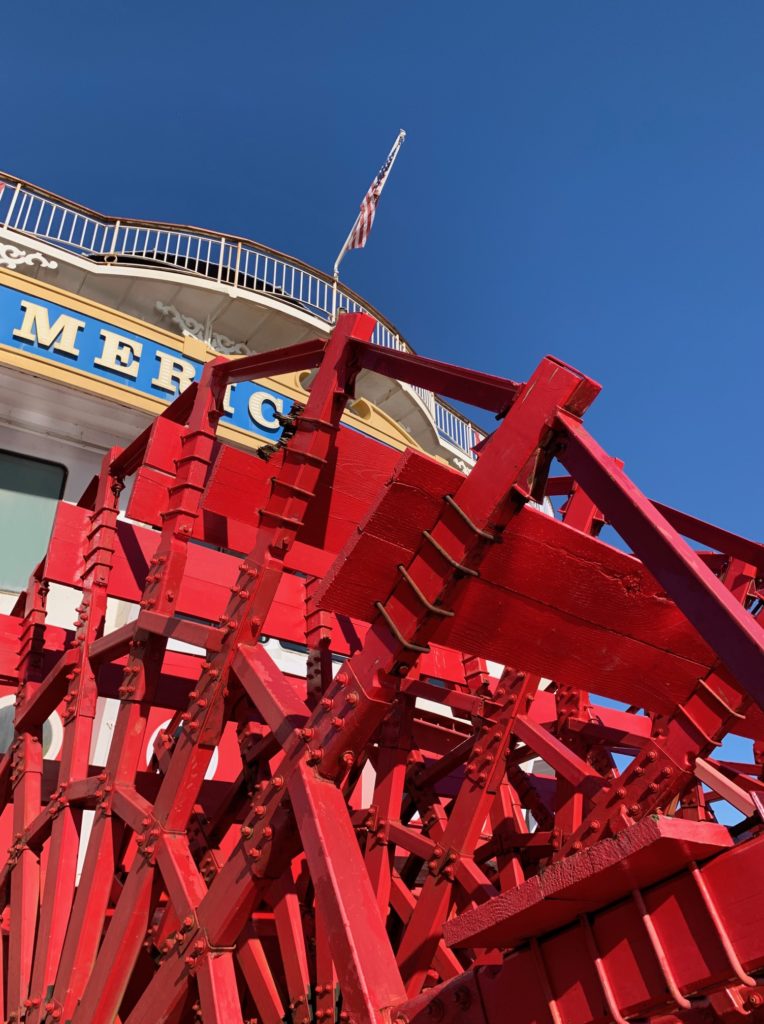 Entertainment is a particular strong point with four excellent vocalists, a full band including brass, pianists, string players and a drummer who offer a full complement of diversions from before dinner to late night. Guest performers also drop in. Blues lovers should not miss the Blues Jam Session in the Engine Room bar, amazing! Generally, just once a cruise but an entertainment highlight. Arrive early to secure a seat in this very small venue.
The Riverlorian was engaging and informative both during lectures and in informal discussions in the Chart Room. Historian, lecturer, and river buff he was animated and personable.
Dining is elegant with crisp white linens and gleaming tableware. 5 courses with complimentary wine are showcased in a tastefully opulent dining room. A more casual meal venue is available as well as room service.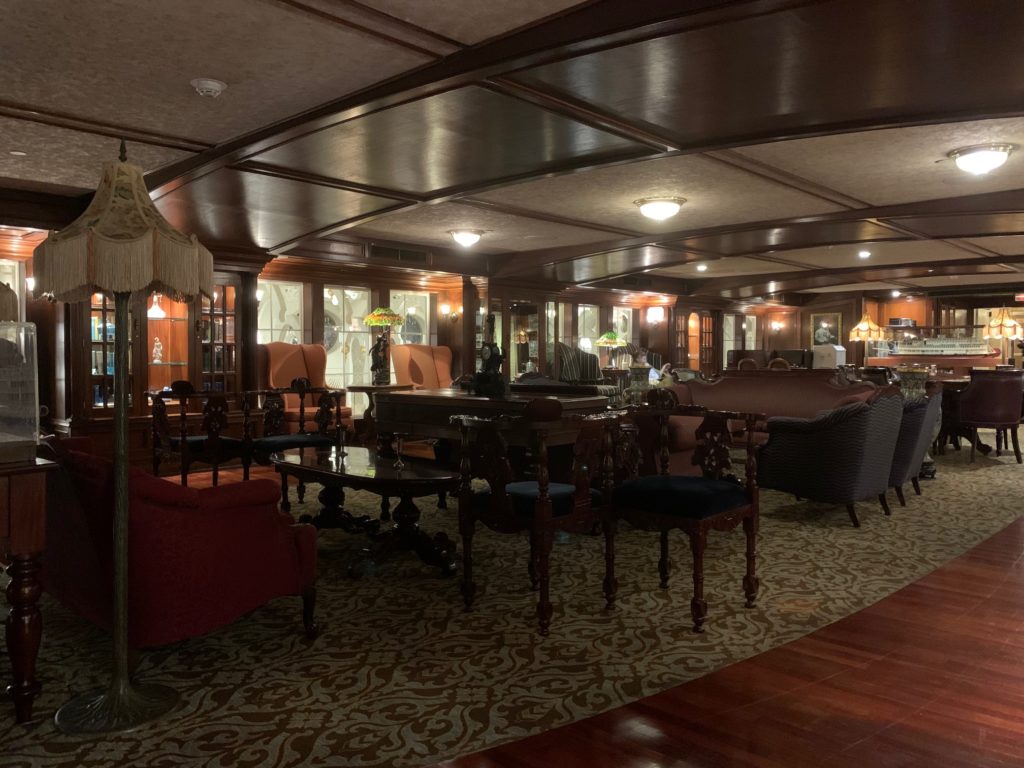 Three bars operate year-round (+one seasonal on deck 5 aft) all offer a full range of included libations. Not on the menu for breakfast but available are beverages such as Bloody Mary's and mimosas.
The cabins are tasteful with excellent bedding and linens. Diverse cabin options at different price points offer options for different budgets even solo cabins are available. Features of the cabins vary, some with just showers and others tub/shower combos. A few insides connected to a shared balcony with a sofa bed to accommodate a family of 5. Passengers are predominantly boomers. Lack of sufficient WiFi made it hard for working professionals in our group even with hot spots. This issue is one that the management is addressing but with no projected timeline.
Hop on hop off is not an accurate description of the included tours, I would call it personal choice touring. You are given a map with descriptions and no matter what you decide to do on the included tour the admission is paid my American Queen. At each stop you stay however long you wish and then reboard the bus to the next place of interest. The earlier tours are narrated by local guides.
We paid for two premium tours both were well executed and accurate to their description. The Blues Tour in Greenville received high marks from friends on the ship. We purchased the transfer+city tour before the cruise in New Orleans, it was disappointing, and your time would be better spent on the Riverwalk or nearby.
I would have enjoyed another couple of days on the boat which is surprising as generally when I am reviewing a vessel, I only want to be on for 2 or 3 days. I don't think I would have fully understood the Queen in that amount of time.

The American Queen is an experience not a cruise.

Tips

Amtrak has direct service between Memphis and New Orleans. Service takes about 7 hours, do consider a roomette with its amenities.
Since itineraries can be longer than 2 weeks there is guest laundry on deck 4.
WiFi is available but is best near the coffee station on 2 or in the chart room on 4. WiFi is also included on the motor coaches.
Our sailing often had the public areas uncomfortably chilly so pack clothing that layer. A passenger who sailed in July said it was true of that sailing as well.
Top suites enjoy butler service and an exclusive show lounge balcony.
If I were reserving a cabin for myself, I would choose one of paddle wheel cabins with floor to ceiling windows or category B 401 or 402.
There is a kiosk between the shore excursion desk and purser to reserve the earlier departures of the included tours.
The tickets for the next day are available at 5 PM.
The banks from the river level to the top of the levee is steep however there are golf carts to ferry guests up and down.
The pool on the top deck is heated and has a wind break around it. Just behind it is a small gym.