We were a little surprised when we were looking for shore excursions for this port and there was so little to choose from. Â Then when I was told it was a maiden call for the Crystal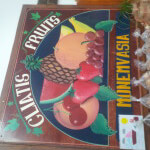 Serenity, it caught my attention especially after being in Santorini with so many other cruise ships.
‎Tenders land in the New Town Center and complimentary shuttles ran to the entrance of the Old City.
You feel that you have stepped back in time as there are no vehicles in the narrow, uneven passages.  Men with various styles of wheelbarrows shuttle luggage, building materials and supplies in and out of the old single gate, walled city.
Shops with trinkets and art blend in with hotels and restaurants. Â Sea views are captivating and the water is so blue that it is almost navy.
For the history buff, more information about the area is available by researching the ruined City of Mystras.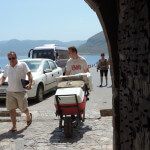 A perfectly pleasant day and one that warrants either a meal or other refreshments on one of the many terraces or balconies overlooking the sea in the Old City.