I was pleasantly surprised with the Westin Dublin. Â It felt like home from the moment I arrived.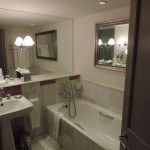 I was treated as a welcome guest rather than a client. Â The beds are truly heavenly and not a detail was left out. Â After a red eye flight, a long soak in a deep tub was perfect and the bath salts showed attention to detail.
The entire hotel was spotless.  The included breakfast was ‎plentiful and tasty with some unique local fare.  The only negative was the lighting system.  After a few days it may have been intuitive, but I found that I just used the switch by the door.
Walk out the front door to Fleet Street and into the Temple Bar district, which is lively and full of young people.
Dining options range from local pubs to all types of ethnic fare. Â I chose Indian cuisine at Aleena Indian Restaurant the first night, an excellent tiny restaurant off the main street. Â For the less adventurous, there are fast food options and Hard Rock. Â Just a couple of blocks from the Westin is a market, well utilized by the locals.
The hop on buses are an easy way to get your bearings and a convenient way to get around.  This is a walking city and some accommodation has been made for mobility challenged.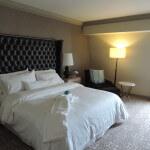 Tip:  ‎set your alarm…..the room is that comfortable.
‎The spire in the middle of O'Connell street is a good reference point.  It is near stop number 1 for the hop on buses.