Uniworld's Small Floating Palaces
If after traveling all of Europe and visiting many of the castles and palaces someone were to wake up one day and say, "Let's build a palace on the water with the elegance of by-gone years, but with every modern amenity," it would look like Uniworld's SS Maria Theresa.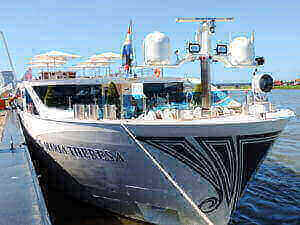 Opulence is the word that comes to mind, but without being overbearing.  If you have ever wondered what it feels like to live like royalty then look no further than Uniworld.  Not only are the ships luxurious, but the service is exemplary as well.  Although I would not decorate my home in the Uniworld style, it was a delightful environment for my ten-night stay.
Such pampering engenders loyalty so that sailings have a high ratio of past passengers. Â Most are mature, well-traveled, retired working professionals who like the ease of a truly all-inclusive luxury cruise product. Â Most travelers are physically active as river cruise products by their nature require step climbing, quite a bit of walking with some traversing over cobblestones. Â Passengers are friendly as the main lounge is utilized as a living room.
Features of Note:
Really fast and reliable internet
Luxury bath with luxury bath products, a heated towel rack and heated marble floor
Relaxing, very skilled massage therapist
The swimming pool is beautiful. The way that the glass around it frosts when anyone is in the room looks magical.
Self-service laundry, with three (3) sets of very nice washers and dryers
The elevator is tufted blue velvet and even the shaft is decorated with a heavy gold patterned foil and marble floor.
The ship is kept spotless, both inside and out.
On-board re-booking incentives
Lots of bikes for the more active and adventurous passengers
The included complimentary wine was consistently praised.
Dietary restrictions are handled individually with great care by the Maitre d'.
Reduced rate single supplements on some sailing
Shore excursions are varied and feature the highlights of the ports visited. Â Options are offered for the "gentle walkers." Â There is ample unstructured time for shopping, naps and just enjoying the different culture. Â Concierge service can provide alternative arrangements.
On-board entertainment consists of a house pianist and solo singer as well as various local and folkloric acts. Â The local entertainers are varied and interesting.
Dining primarily takes place in the main dining room.  There is a limited snack and beverage service on the lowest passenger deck.  In addition, there is a small lounge, aft on the ship, with limited food selections and on some evenings, a fixed menu is offered as an alternative dining venue.
Dining was generally very good.  Dining is open seating and the few tables for two are so close to the adjacent table for four, the separation is only by body language.  The bar selection and service was excellent.
The cruise director was excellent, unflappable and creative.  His many years of experience allowed him to cheerfully orchestrate his homeland.  The officers were ever-present, in particular the captain.  Everyone who worked on the ship could not have been more pleasant or helpful.
We had a French balcony, #320.  We enjoyed the light, but frankly with the rafting and the weather being so cool, we could easily have enjoyed any cabin on the ship as we spent most of our free time in the public areas.
Of note, the windowed cabins on the lowest passenger deck have much less space for hanging clothing, so plan on folding some clothing. Â All other cabins have plenty of storage for two. Â We overheard several people remark on how comfortable the beds were and we concur.
Disney has created generations of girls who daydream about being a Princess. Â They only need to grow up and sail with Uniworld for a week or two to really know what it feels like to be treated like royalty.
(Written by Linda Allen-Speer on April, 2016, Antwerp to Amsterdam)
(Tulips &Windmills)