I live, work and travel from the beautiful Ozarks mountains.
Our little Harrison, Arkansas airport, HRO, has very limited service on very small prop planes. Service is friendly and efficient,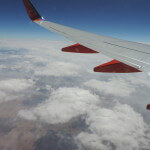 even if unpredictable.
The flight I was to be on to take me to Kansas City was stuck in Memphis due to storms. The local Seaport office called and told me of the delay. My flight the next day was mid-day, but Ozarks weather does not allow the prudent to cut it close. After checking in an hour later with no departure time, I put my luggage in the car and drove to Kansas City. I stayed overnight at a hotel with complimentary parking and a shuttle.
Another handy link that travelers can use to figure out their own personalized documentation needs for their trip is the International Airline Transport Association (IATA) Timatic tool. Timatic is the program that most airlines use to determine if you have presented the correct travel documents for your itinerary. So using it before you go to the airport can prevent many of these check-in counter shocks.
Tip: When flying from a small airport with just a few flights a day, have either a very flexible schedule or a back-up plan.
I was traveling to Anchorage and looked at flights and schedules from all of the usual suspects by searching all flights on itasoftware.com. I put in my dates and flexibility for each leg and narrowed it down to the airports I was willing to drive to within 250 miles that had one connection. MCI (Kansas City, MO) was the best choice, but what was interesting one of the options was a 20+ hour layover in MSP (Minneapolis, MN), a stop 15 minutes from my oldest son's house.
Tip: Look for a long layover in a city where you have friends or family or perhaps there is a site you have always wanted to see that can be done in a few hours.
After determining the routing, I did another search for each segment and found a business ticket that was about the same as Delta Premium Economy with a bag fee for the MCI to MSP segment.
Tip: Don't assume that business class is too expensive ‎if you routinely upgrade to premium economy.
Next, I priced out MSP to Anchorage and found business class on an airline I was unfamiliar with as they do not have routes into the Midwest.
Sun Country business class service was excellent as was the food. Additionally, bags in business were complimentary. It is still a long six hour flight, but I caught up on reading and did some work in comfort. I arrived in Anchorage ready to start a grand adventure. It is a good idea when utilizing an unfamiliar airline to check out their stats and fees.
One of the things I read about during my long flight to Anchorage was an add-on, InvisableHand. I've only just downloaded it, but from my reading, it seems to work best with Firefox and without a password manager. InvisableHand indicates a discreet notification when there are lower prices available on a product, flight, hotel or rental car you're shopping for. It also gives you a link directly to the lowest price.
Tip: Look at your schedule and see how many nights you will need a hotel. It made more sense for me to overnight in MSP and take a mid-morning flight than to arrive after midnight and spend a day recovering.
The last leg of my trip was from Vancouver to MCI. I priced this out and since I was coming from Canada. I found a very attractive one way, first class fare on Delta with one stop.
Tip: Sometimes coming from another country into the US has better pricing than multi-city tickets.
By using a program that I was very familiar with and which is very robust, I was able to fly business and first class for just a little more than one multi-city ticket would have cost in a similar itinerary.
Tip: Each trip is different and it helps to have an idea of what a typical economy ticket will be so that when you see a good deal you can book it.
The next trip I booked was a direct flight on Southwest to Las Vegas for a convention. Not only was it competitively priced, the schedules allow me to drive down and back the same day as the flights, so that I am out of the office the minimum amount.
Tip:‎ Be sure and check on carriers that are not shown at search sites such as Southwest. In addition, some of these smaller carriers only load inventory a few months out.
‎Disadvantages of multiple tickets is that if you have a change such as I had recently when a cruise was canceled, is that you then have to call multiple carriers and pay multiple change fees.
Tip: Don't assume that one way fares are more expensive.
Sometimes if you are headed to a destination and are not sure who services that destination, you can start backwards to find your routing.
TravelMath is a good place to start as you can find the closest airport, as well as where you can fly to with nonstop flights.
Tip: Not every schedule operates everyday, so you can sometimes obtain a better flight by pricing 1 + or –.
Tip: At the very least, I suggest that you keep or shred all of your boarding passes until the conclusion of the trip.
Tip: Get compensation for flight delays of up to $700 with AirHelp.
Tip: Juicy Miles, an Award Travel Search Engine, Will Make You a Points-Spending Pro.
If you have a cruise booked, don't assume that the cruise line air is not the best choice. At times they can be a good value, in particular for open jaw or long haul itineraries.
All this being said, I still have an air expert look over my draft, make suggestions and ticket all but simple air and international tickets as well. There are just so many schedule changes and delays that it is well worth it to pay a fee rather than learn some lessons the hard way.
Starting January 2016, there is a new app called Seateroo that will allow you to search a database of flyers who are willing to exchange boarding passes, negotiate a price and exchange electronic payments if you find yourself with a less than desirable seat assignment.
Involuntary EU Downgrades
The European Union has regulated the cases of an involuntary downgrade.
If passengers are placed in a lower class than what the ticket was purchased for, the airline must refund 30/50/75% of the cost of the ticket for the type of flights.
Involuntary Downgrade Compensation – DOT rules
The DOT rules currently in place will cover cases when a passenger is not transported in time to the final destination they booked.
However, the DOT does NOT regulate any involuntary downgrade. The class of service was not a major concern when the DOT rules were established.