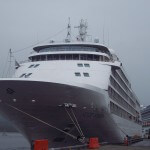 June, 2013 found me on the sailing from Seward to Vancouver in the Inside Passage of Alaska.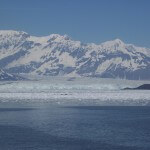 Most passengers embarked via the train arranged by Silversea thus there was an influx that I anticipate is not normal for Silversea causing a line to board.
Service is smiling, efficient and unobtrusive. Â Our butler was very nice and dapper in his tux. The staff to passenger ratios are very high.
The ship is lovely and well designed.  Lots of windows and an airy deck plan make this a comfortable vessel.  She is, however, showing some wear that could be successfully addressed by a Martha Stewart wannabe.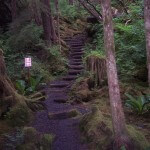 The first night there was a galley buffet. Â In hindsight other dining options would have been preferable. The Patio Grill is a nice treat with table service and freshly prepared grill items, and the evening Hot Rocks service is a pleasant change.
Entertainment is typical for a small ship with six resident staff entertainers, strong in vocal and passenger interaction. Â The Quartet band is musically accomplished. Â In the bar, a duo provides enthusiastic and pleasant pre and post dinner music. Â Oddly, there is no entertainment from non-crew members.
Shore excursions are operated effectively and were typical for Alaska.  You may want to check reviews as the one I took that was to be an easy hike was much more strenuous than anticipated. (Note picture of hiking trail stairs.)
Food and beverage are strong with most items good to excellent.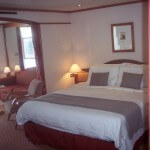 Cabins are lovely and comfortable with a pillow menu and an in-cabin bar stocked to suit.
With all of the strong points of this Silversea cruise, the true standout is the approachable and caring staff and crew.  I also found the other passengers friendly and open. Demographics were skewed to primarily English speakers from North America.
There were families on board, but Silversea is geared more to affluent, well-traveled adults with most being mature empty nesters. The on board guest lecturers were engaging and well-received.
This sailing had quite a few past passengers and everyone that I spoke with intended to sail with Silversea again, they said it is expensive but worth it.  The element that they seemed to appreciate the most is sailing with similar passengers.
Written by Linda Allen