THE MOOD
This ship oozes "updated deco and contemporary modern" with rich warm colors blended with sleek whites with glass and metal accents that are unique and interesting. Â Art is contemporary.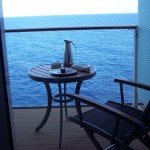 FEATURES
Connecting cabins share an optional foyer with two separate doors to alleviate the dreaded noisy neighbor problem of many connecting cabins.
At the buffet, there is soft serve and made on board ice cream.
A very popular "al fresco" dining option on the fantail.
There is a forward observation lounge with views on three sides.  It is well utilized day and night.
Real ground coffee is brewed even in the Lido, regular and decaf.
Stronger brewed coffee is available in The Relaxation Lounge on Deck 7 and the Aqua Spa Cafe on Deck 14.
The bath is functional with a shower that is large enough to be comfortable.
Oceanview Cafe on Deck 14Â  is large, light and airy. Â Quality and selection are very good.
There is a special requests area in the main kitchen for guests who are vegan or have allergies, etc.  The chef overseas all reported concerns with a print out of each special need.
TIPS
The main show lounge has some obstructed site lines, so arrive a few minutes early to get a good view.
On Deck 7 is The Hideaway. Â I can see this being a nice refuge for a night owl traveling with a morning person.
There is no longer an Art Gallery and Galleria Tastings has been renamed the Molecular Bar on Deck 5, although signage has not been changed.
MISC.
I did a top to bottom tour of the ship on a sunny sea day and all of the public areas were well utilized.
Specialty restaurants were underutilized.  Pricing seemed to be an issue and several passengers reported that they were offered 2 for 1 options in order to try them.
I was worried about a midship cabin thinking noise might be an issue with the elevators……not the case.  I was in 9276 and even with a ROCKING party in the atrium, there was no noise.  Still, avoid the cabins immediately in front of the doors.
Another guest on the shuttle to the ship said he was just off a Holland America ship and asked about how the service would compare on his first Celebrity cruise. I told him it was a very interesting mix of international crew and they speak less and watch more.  So, service seems intuitive and relaxed.
A twelve night sailing attract more mature clients and a Holy Land sailing will generally attract well-traveled passengers.  That seems to be true and passengers appear more affluent.  Many that I spoke to were sailing back to back.
ISSUES
Overly loud events held in the Grand Foyer invaded what should be quiet areas  making these areas set aside for serene activities uncomfortable at best and unusable at worst especially during events such as Modern Pop Line Dance lessons. In the same areas when the string trio or piano music was playing, it was very pleasant.
Of note is that the ship has moved all "informational items" to the interactive TV.  This is something I found out about on Day 9 when casually chatting with an officer.  He said "Didn't you get the email we sent yesterday?"  Quite a well kept secret….I never did see an explanation or any mention made of this.  After I made the discovery and tried the technology, I personally found it cumbersome.  I suspect GenX and younger would not find it so, but that is not the Celebrity primary demographic.  A TV guide and a few written hints in the Guest Services Guide would be helpful.
(Based on a Holy Land sailing in October 2011)