Sailing in spring around South America with a full compliment of passengers on one of the newer Seabourn ships was a delight.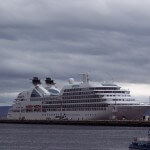 Passengers were affluent, well-traveled adult professionals, mainly North American, but with a sprinkling of Europeans and Aussies. Passengers were friendly without being intrusive. Â Many were on for two or more segments and on board booking seems popular. Announcements are sparse and only in English.
The Seabourn Square on Deck 7 offers services, computer stations and a coffee bar with snacks. Â There is also a selection of books, magazines, papers and games with a relaxing sitting area overlooking the wake.
The Observation Lounge on Deck 10 has sweeping views and is the perfect location for afternoon tea and quiet conversation while sea gazing.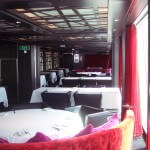 The Colonnade morphs at night into a restaurant with themed meals and attentive service. Â The more casual atmosphere attracts those who dress down a little.
Restaurant 2 is a small intimate tapas style restaurant with a unique menu. Â When I asked other passengers how they liked it the response was mixed…..not for everyone but a nice change and one we enjoyed.
Entertainment is old school with singers, dancers, comedian and magician.  The house band is excellent.  However, the sight lines in the main show area can be an issue so arrive early for an unobstructed view.
There is a proper card room. It is large, light and airy. A good assortment of games is available.
The after show entertainment on Deck 5 at The Club is very well done. Â The singers and dancers engage passengers and create a fun atmosphere.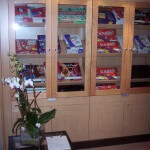 Other unique touches are the hosted tables by entertainers, guest lecturers and officers.  It was very well received and appreciated by singles and first time Seabourn guests.  Another unique touch is the preprinted personalized voyage calendar delivered early so that guests can enter appointments and excursions as well as see suggested evening attire at a glance.  Delivery of the evening menu along with the daily newsletter is very helpful in deciding where to dine.
Guest lecturers were appropriate and informative.
Art is modern, some playful some with a nature theme and some impressionistic.
The spa is lovely and operated by Steiner, so spa and beauty services are the typical offerings and prices include the tips.
Food is very good. Â The only issue is that sometimes the food that should be served hot was not.
I was assigned Cabin 422 and found it beautifully designed and appointed with light woods and rich colors. Â A nice touch is the ceiling to floor drapes that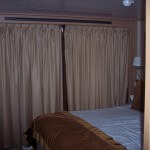 separate the living area from the sleeping area.
A walk in closet and storage everywhere make this class of ship an excellent choice for longer voyages.
The luxurious soaking tub with an assortment of Milton Brown aromas available on request was a particular delight. Â Dual sinks and a separate shower round out this classy well appointed bath.
There is only one proper 120 volt electric outlet and it is at the vanity. If you have several gadgets to charge it would be best to charge at the bar area using a converter (European to US) with a multi outlet strip.
Two complimentary guest laundries were well utilized and did a good job. There is a drying line in the bathroom.
Guests who have sailed many times with Seabourn talk about returning to the smaller original ships. They like that size and compare them to Sea Dream, not surprising due to the same original owner.  Others also sail on Silversea, but for most the Sojourn at 450 passengers is at the top of their ship size.  Also important to passengers is the all inclusive aspect of Seabourn as well as the similarity of the other passengers.
TIPS:
The best coffee is made to order on Deck 7.  (Don't even think about the milkshakes if you are on a diet, fortunately I discovered them late in the cruise.)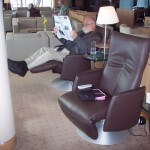 Connecting cabins have the typical noise issue as they connect cabin to cabin rather than with a foyer, another good reason to opt for a cabin assignment.
The best seats on the ship are on Deck 7 aft.  Electric operated recliners with panoramic views to the aft of the ship.