The first sister of this new generation of Princess Ships, the Royal Princess, is a visual delight inside and breathtakingly large on the outside. Â The public areas are lovely and the cabins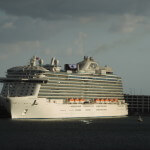 continue with the Princess tradition, with the exception of the much smaller suites.
This ship was built to flow around a three story atrium.  My primary concern before sailing on this ship is that there would be more passengers than public areas.  Happily, I did not experience this in my one day/two night cruise.  We arrived about 30 minutes before the suggested boarding time and there were no lines.  Other passengers arriving earlier also reported very smooth embarking, and our disembarkation was equally easy.
The colors are different for Royal Princess.  They featured rich warm browns and tans.  Not as nautical and more contemporary.  I expect the target demographics to be primarily working professional couples.
I always recommend mini suite cabins if there is not too big of a cost difference. Â Clients are always pleased when they return and they paid a little more, but had a much improved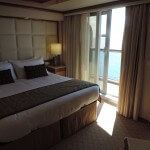 experience.
Minisuites come with a larger bath and cabin and more storage.  I was assigned M106.  Not one I would recommend, but still spacious and attractive.  This is the type of cabin you need to be aware of if you accept a Minisuite guarantee or a balcony upgrade as it is all the way forward and overlooks the bow of the ship.  The balcony is fixed steel below the railing and is HUGE.   As on all ships, these forward facing cabins have issues with wind while sailing.  Still if it was a choice of this category over a balcony, I would always take a minisuite.
Interesting art and decor are prevalent.  Of note are the prints that line the corridors of the passenger decks.  They were contributed by Princess passengers and most look like photos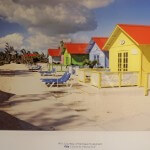 you would see in a brochure.
Suite amenities along with the Concierge Lounge start with the S5 category.
Entertainment was typical for Princess, which generally receives high marks.
Food was typical for a ship this size with some dishes excellent and some not.
The Retreat Pool area is a separate adult's area near the Sanctuary, and it was a welcome oasis.  I can see myself spending quite a bit of time there- So relaxing……. If you are looking for an alternative quiet area try midship on Deck 7 outside the Crooners or Facets.  You will find a lovely open air quiet option.
The toddler-teen area was expansive and well thought out. Â This would be a good ship for multi-gen as long as they don't need connecting cabins and triples book minisuite or higher.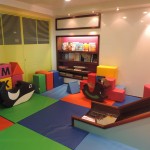 There is an additional charge for the Sanctuary Area.
Tips:
Princess is introducing a new drink package. Â I was told $49 per day. Â That may sound high but considering……I think it will be a popular option.
Bath amenities include wall mounted shampoo and bath gel. Â There is lotion, but no conditioner or shower cap.
The hair dryer is in the top left desk drawer. Â It is stationary and adequate for someone like me who can dry their hair in 90 seconds with any hair dryer. Â However, if you have thick hair it would be awkward and you should pack your own.
The Spa is large and very attractive. Â It is staffed by Steiner and prices, services and sales pitch are typical for Steiner. Â Of note there is an M.D. in the Spa offering various beauty procedures like Botox. Â He tried to interest me…….but my vanity was not yet there. Â If I could I would live in the Vitality area. Oh my……the picture of relaxation.
If you are light sensitive, pack a sleep mask. Â The drapes have a design that allows significant light infiltration.
Be very careful booking balcony cabins on the starboard side mid ship. Â From the skywalk above, you can see directly into the balcony, not as bad on the port side but still……It will be interesting to hear the comments from those passengers in full view of the skywalk. Â It should be entertaining to watch all of the reactions. Â Personally, I think I would be tempted to pack a scary mask like Frankenstein to make the experience more interesting. Additionally, these balconies will have shading from the skywalk.
Sister to the Royal Princess is the Regal Princess.  These attributes make the twins a favorite with Princess fans.  The spacious atrium is light and airy with a contemporary nautical flair.  Cabins are typical for Princess with the dressing area/closet. The large (by ship standards) shower is very comfortable.
(Written on a 2-night sailing in late October 2013 on the Royal Princess & modified after sailing on the Regal in October 2014)