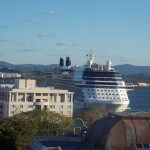 The Eclipse is one of the very popular Solstice Class sisters within the Celebrity fleet.  There will be a total of five ships which is planned as the full compliment for that generation.  
Open, airy, light and playfully modern the ship speaks to those who appreciate quality without pretension.  My Kodak did not have the capability of capturing the beauty and charm of this ship and I don't think even the professional "portraits" show her off to her true advantage.    
I was pleasantly surprised at how open the cabin felt. I stayed in a Category 2B, which is a standard balcony with a somewhat obstructed view.  When you are standing at the edge of your balcony and look down, you are looking onto life boats or deck rather than open water.  Looking straight out, there is no obstruction.  This is a difficult class of ship for cabin selection as upper level balconies are shaded by an overhang and midship lower balcony cabins look at or in the lifeboats.   
Storage was plentiful, and a safe, minifrig and hairdryer are provided.  Beds and bedding are comfortable and furnishings are pleasant and tasteful.   
I liked the lawn and all of the open areas.  There are so many places in the sun and nice comfy loungers.  On the promenade, there are even some nice chairs in the shade.  
I was struck with the excellent use of space around the atrium.  The utilization of this lovely area, by adding public areas that are quiet on passenger decks, is a nice touch. 
My favorite restaurant as to location on the fantail was the Tuscan Grill. Â The display of the offerings was most delicious looking. Â The main restaurant is open and airy and the food was consistent with the high level of expectation for Celebrity.
For the lucky few who are in Aqua Class, they are able to dine in Blu for breakfast and dinner.  It was a lovely setting, very quite and serene.  I had a delightful dinner in Blu and the dishes were full of flavor and delicious.  
The spa is serene and the treatment I had was divine.  Steiner is the provider and prices and sales pitches are typical of Steiner.  A 15% gratuity is automatically added to all services.  The relaxation lounge is lovely and quiet with a wall of forward facing windows overlooking the sea.  The adult only pool and hot tub is also a nice oasis.
The teens and kids area is expansive and Celebrity seems to be making a push to attract more families.  I have to admit that although my cabin was listed as a quad, I think it would be a very tight fit and I would certainly consider downgrading categories to get more space in the cabins by utilizing connecting cabins.  
The production shows were full of energy and frankly some of the best that I have seen on land or sea.  I found the light show physically painful to watch, but otherwise very well done. 
The internet area is spacious and bright and partnered with Apple.  Even the best equipment can not overcome the slow speed of satellite internet, which reminds me of my first dial-up.  I think I will go back to the office and kiss my computer.  
So who would like these new Celebrity ships? 
Anyone, any age who likes a quality cruise with very good food and entertainment in a modern tasteful atmosphere.  They will feel right at home.  Certainly reserve as early as possible to get the best selection of cabins as this ship has some issues with shading and obstruction in the balcony cabins, which is the majority on these ships.