Princess is sailing from Bayport Cruise Terminal in Houston Winter 2013 and 2014.  The port is about 45 minutes to an hour from Bush International Airport.  The port is a spare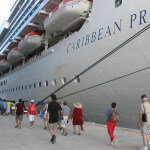 place with just the parking lot and the Terminal.  Parking for a 7-night cruise is $80.  The parking is all uncovered.
The Caribbean Princess is one of the Grand Class ships and can carry 3,100 passengers. Â She has had some recent refurbishing and there is other work planned for next year. Â This cruise had a full complement of passengers.
Our ocean view cabin was adequate for the time we would spend in it.  There is plenty of closet and storage space.  The bathroom and shower are on the small side.  Our cabin steward was one of the best I have ever had on a cruise.
We ate in the Palm Dining Room with good servers and a maître d' who was attentive and listened to questions and comments.  We tried the dining room breakfast and lunch during the trip and enjoyed the service.  The two buffets always had good selections.  The Café Caribe featured different ethnic menus while the Horizon Court had varied selections.  The grill and pizza bars were near the pools.  There is also a 24-hour food venue near the specialty coffee bar.
One night we dined in Sabatinis.  This was the highlight meal of the trip.
Entertainment was varied and they did most shows three times each night, so you could always find a time that was convenient.  There were lots of specialty features and passenger participation events including the famous champagne waterfall.  The dining room staff show, which featured the head chef and the Maître d', was delightful.
The movies under the stars feature had wide appeal.
We explored the ship and found some very quiet spots for outdoor relaxing and reading.  We also loved seeing the ports as we left them from the Skywalker Lounge on Deck 18.
The spa offers all of the services you would expect.  They did offer a few specials during the cruise and a few complimentary informational sessions.
I had the opportunity to see various cabins and cabin categories.  They are all laid out well and the mini suites offer the additional space that would be nice on a cruise like this one with the three sea days.  Larger suites of course give a luxury feel.  This cruise gave me an opportunity to experience what a guarantee cabin can mean.  The cabin assignment was not done until a few days before the cruise.  This can be important depending on the itinerary with regard to the cabin location on the ship.
(Based on a cruise from Houston, Texas, November 9, 2013)