The Hilton Anchorage is very conveniently located. Near many good restaurants and shopping area. Â There is a small convenience store at the bus station. The staff a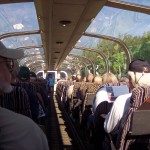 t the Hilton is friendly and efficient. Â I stayed there the first two nights and the last night of my tour and was able to check my big suitcase with all the cruise items at the Hilton. Â The guestrooms and halls are dated.
Knightly utilized the Holland America domed rail cars. Â The views are dramatic. Â Service was excellent and accommodations are lovely. Â We had breakfast on the train and it was very good and reasonably priced. Â There are steep winding stairs to negotiate; however on the second train, we were on there was a small lift to make it accessible.
The Aleyska Lodge  is only two miles from the little town of Talkeetna.  The lodge does not have balcony rooms, but has expansive decks overlooking the mountains.  There is no air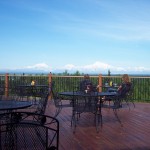 conditioning. Â Generally not an issue, but temperatures vary widely with snow three weeks ago and 90+ degrees in the forecast. Â Packing is a challenge, sandals to wool socks with a waterproof jacket always a good idea.
Shuttles run every 30 minutes into town with the last return at 7:45 p.m.  There are several attractions to see to include the Denali Brewing Company, which crafts its beer and root beer.
Dining on the deck is special. Â Guest rooms are functional and include a small refrigerator. Â Since the Lodge kitchen can be overwhelmed when it is busy, it is a good idea to plan your meal times.
A suggestion would be to re-hang the curtains so that at least part of the light can be blocked when the window is open.
Tour options are varied. Â I experienced a small plane that flies out onto a glacier after flying through the mountains around and including McKinley. It was an amazing once in a lifetime experience.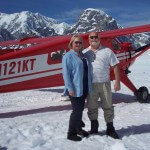 However, the Three Rivers Jet Boat tour is not one I would recommend.  There are much prettier waterways in Alaska and wildlife was scarce.  Very odd is that even before a 3.5 hour tour, the operator does not provide modern facilities or a comfortable waiting area or coach to the boat.
Denali Backcountry Lodge reminds me of an adult summer camp. It is rustic with no air conditioning, as it is powered by a diesel generator.
If you have sensitive electronics, be sure to pack a surge protector.
Food is basic with little accommodation for special diets and served family/buffet style.  There is no TV, telephone, cell or Wi-Fi and no nearby towns. It is close to the end of the park road.  Cabins are heated and have modern plumbing.   Misquote nets for your head and bug spray are readily available.  Most guests stay two nights.
New in 2013 is a full time massage therapist. Â I tried a 50-minute therapeutic massage with Nancy and it was excellent.
Suggestions for this property include adding screen doors and re-hanging the curtains to better block light when the windows are open.  Coming back out of the park the view side is on the passenger side (starboard).  If you are afraid of heights sit on the driver's side.  With 20 hours of daylight you should plan a strategy so that you get enough sleep.
With no visual clues of sunset, it is confusing to the bodies' biorhythm. Allow some time to wind down and pack a few items to help with sleeping, such as a sleep mask and ear plugs.
We returned on an Alaska rail car against the advice of Knightly so that we could travel with a friend. Â Even in one of their top cars, it did not come any where close to the comfort and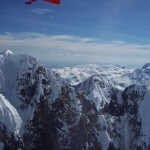 service of the HAL/Princess domed rail cars.
Alaska is a captivating land with dramatic scenery and fascinating citizens. Â Everyone has a story and they are all interesting. Â The pace is laid back and friendly even in their drivers.
Although you can get a good idea of the weather at weatherbase.com, it is a good idea to check the 10-day forecast just before you leave to make last minute adjustments. Â Weather is highly variable. Â Things that you may not have that you may want to consider are sturdy waterproof walking shoes, sun block shirts and wide brim waterproof hat with tie downs.
Must have items:
Insect repellent
Sunglasses
Waterproof jacket with hood
Anti-itch cream for the inevitable misquote bites
Good to have:
Binoculars
Extra camera memory cards and batteries
Tightly woven sun blocking clothing that is quick drying.
Conclusion:Â  Knightly delivered exactly what I asked for. Â There was enough time at each stop so that there was time to rest and enjoy the trip and plenty of gee whiz.
Written by Linda Allen based on a June 2013 Trip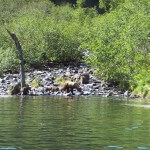 Click on pictures to enlarge image.