Cruises are known for passengers coming on two by two just as they did for Noah. Travel companies are known for charging the same per transaction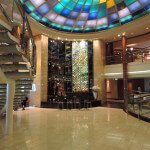 whether it be a car, hotel room or a cruise, so a reduced rate single supplement can make a cruise much more affordable for a solo traveler.
Cruise itineraries are loaded out farther than I can remember in my considerable career. Many of the cruise lines use reduced rate single supplements to fill up sailing with extra inventory.  By the time the reduced single supplements are released, the most desirable cabins are booked.  Currently, there are a few sailing with interesting itineraries that are available over a year out with reduced rate single supplements.
Most of these sailings feature "Gentlemen Hosts" on board for the dancing and social pleasure of the solo women or even for women who find themselves with partners who do not dance.
Another advantage of all of the sailings below is all of these cruise lines feature complimentary beverages including alcoholic beverages, which in my experience makes a ship more social with more mingling. I would anticipate that a lower single supplement would attract a greater than normal number of solo travelers, which may lead to even more social interaction.
A recent request from one of my clients about solo rates caused me to put together some of the current offers. 
I enjoy the ambiance and demographics of Oceania and they have several sailings with a reduced rate single supplement..  Azamara also has some solo traveler deals. Have a look at Star Clippers and Ponant as well. 
Some of the luxury cruise lines also have solo fares such as Silversea 
Several of the river cruise companies also have some solo rates, AMA tends to have younger more active cruisers.  However Uniworld is all inclusive.   
There are also some expedition cruises such as Zegrahm;  for 2019 the following trips do not have a single supplement and are still available: 'Treasures of Japan with South Korea', 'Iberian Peninsula', 'Wild Norway and Svalbard', 'Path of the Vikings', 'Circumnavigation of Sicily', 'Tahiti to Easter Island' . 
There are a few cruise lines that have dedicated solo cabins such as Norwegian Studios.  The brand new Norwegian Bliss has Studio cabins and will be sailing in Alaska this year with some of those sailings calling at Glacier Bay.  Cunard also has a few solo cabins as does Royal Caribbean. 
Note the embedded links.  Of the ones mentioned, Oceania has the best food.  Star Clippers is fun, not known for the food but has a large repeat factor and is really fun to read about the owner.  Click on the links and call with any questions.
 
Linda