Quantum of the Seas changes everything. Â She exhibits the energy of Royal Caribbean with the sophistication of Celebrity.
Quantum's build cost was over a billion dollars with two more sister ships on the way (Anthem in the fall of 2015 and Ovation in spring 2016).  Quantum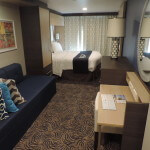 was built for the Asian market and during her 56-day crossing, elements like Johnny Rockets and Casino Royale and the shopping  experience will be changed for added appeal to the Asian demographic.
Quantum will sail 4-8 night cruises, mostly round trip Shanghai.
Royal Caribbean is intent on attracting first time cruisers and also trying to get more interest from the 24-35 age group with the technology.
Many of the technology innovations are a "first" in the world. Planning and building took five years as this is a concept ship. Â She has an air cushion ride for the best fuel economy. Â Emission and affluent scrubbers are state of the art. Â She will burn less expensive fuel for greater economy, yet be environmentally friendly.
As each new class of Royal Caribbean ships comes out, the special technologies are advanced. Â Quantum has The North Star, which is a jewel shaped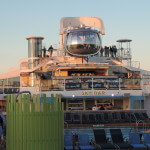 capsule the gently ascends over 300 feet above sea level for breathtaking 360 degree views of the sea. Another new feature is Ripcord by iFly, which gives the feeling of skydiving. Â Besides these, the Quantum Class introduces the Bionic Bar. This is a cocktail lounge with robot bartenders.
Technology will continue to evolve and become more robust.  Of note, the inside virtual balcony cabins have a remote to turn off the TV which turns off the video showing the aft view as if there was a window.  I also noticed something unusual in the cabin. Tissues which are normally in a dispenser in the bathroom were found in the drawer with the hair dryer….curious!
In order to provide a custom dining experience Quantum Class ships will have what is called Dynamic Dining. This reimagines dining at sea to give you more options plus total flexibility. Â There is no main dining room, no set dining times, no assigned seats and no required formal nights. Â Mature passengers may be disappointed that no system is in place for them to have the same wait staff and tablemates at dinner. Â If you want a more formal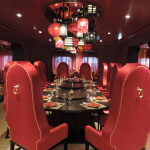 dining experience there is The Grande, where passengers can dress up to dine on a modern version of classic cruise liner dishes such as lobster bisque, Beef Carpaccio, Lobster Tail Thermidor and Chicken L' Orange.  Décor is subdued with gold, cream and black colors.  No detail is overlooked, even the water glasses have beautiful frosted etching.
Cruisers will want to reserve specialty dining far out in advance in order to get reservations in the small restaurants. Â You should pick your shows first and then your dining.
The show lounge on Deck 5 aft offers stunning views during the day and remarkable state of the art facilities for shows at night.  It has enough "gee whiz' to interest even passengers who do not care for musicals.  The "Starwater" performance that I saw was a combination of music, acrobatics, dance and amazing technology in lighting, hydraulics, set and costume design.
The main production shows are definitely Broadway quality. "We Will Rock You" will be on Anthem and "Mamma Mia" is on Quantum. These are full Broadway shows.
Sadly, the Viking lounges are being converted for suite guests only. Â On the Quantum, the only forward facing public area is the Solarium. The aft of the ship has an open air dining option at the Lido. Â There is also a show lounge with expansive views on Deck 5. Â The bands in the Music Hall were quite loud, so you may want to have some earplugs when visiting that venue.
(Written on the 2-night Inaugural Cruise on Quantum of the Seas, November 2014)