Picture yourself on a floating work of art filled with smiling faces and some of the best food you have ever eaten……….a dream ….no it's Oceania Riviera.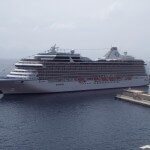 I just returned from a 14-day transatlantic cruise on Oceania's newest ship.  The Riviera, which came into service in May of 2012, left Miamion April 7th for a cruise ending in Barcelona with stops in Bermuda, Madeira and Tangier.
It did not take long to find out why so many of our fellow passengers were multi-repeat Oceania cruisers; some were well into the double digits in their cruise count. Â There were quite a few passengers who started in the Caribbean and were ending in Rome (back to back to back). Â It seems that the company in ten years has built a following based on personal service and fantastic food.
The cabins are decorated in relaxing colors.  They are well laid out with plenty of storage space.  Beds are very comfortable with top of the line linens.  The bathroom has a soaking tub and a separate shower.  The balcony was a nice retreat for reading and enjoying a cup of coffee.
I was able to see a wide range of cabins and suites on the ship and cannot think of any negatives. Â The suite guests have their butlers who move about the ship in their cutaway coats while tending to their passengers.
Crew members were friendly and solicitous no matter what their rank or duties. Â There was never a feeling of forced courtesy or patronization.
Riviera has four specialty restaurants; Toscana, Polo Grille, Red Ginger and Jacques. Â These restaurants are included. Â You can book one visit to each prior to boarding and then you can check each day for availability if you want to return to one of the restaurants.
The Grand Dining Room is an impressive room with a varied menu.  Dining is open and a great time to meet some new travelers each night.  The other dining choices include the buffet in Terrace Café and the Waves Grille. There is also a Barista Station between the library and the Internet.  If you have a late dinner planned, don't skip Afternoon Tea.
What is there to do on a transatlantic cruise with nine sea days? Â Take a Spanish Class, become part of the art classes with the artist in residence in the art center, attend one of two different lecture series, learn to dance, learn and play bridge, attend cooking demonstrations and many more activities.
There is also a Canyon Ranch Spa and a very well-equipped fitness center. Â There is a good sized pool and a few hot tubs and plenty of deck space to relax in. Â I cannot skip my favorite activity. Â There are cooking classes in the 12 Station Culinary Center (On Marina and Riviera). Â The classes have an extra cost and there are many offered on each cruise. You get to see the dish being made and then go back to your station with a partner and prepare the dish. 3 or 4 dishes are made and eaten with a wine paired for that menu.
Riviera has a few boutique shops which offer a nice selection of clothing and jewelry items.
Riviera has self service laundries. Soap is provided and the tokens are purchased at guest relations.
Embarkation and disembarkation are efficiently handled.
The shore excursions are varied and well organized.
We had a wide variety of entertainment while on the ship. We had a few vocalists, a comedy magician and the variety shows put on by the ship entertainment troupe. The entertainers also did some early evening caberet shows. All of this was supplemented with an excellent string quartet, a duo and a pianist who appeared in the various lounges.
The crew of Riviera even puts on a country fair. They set up booths with games and passengers play the games and accumulate prize tickets. At the end of the fair tickets are drawn for a variety of very nice gifts.
Transatlantic cruises are not for everyone since the ship does not stop someplace every day. It should appeal to the people who like to go to a resort for a week or two and not have to do anything if they do not want to.
Oceania has many itineraries all over the cruising world. When you plan your next cruise consider making it an Oceania cruise.
Written by Toby Snyder