Written by Linda Allen
Exuding unpretentious elegance, the Oceania Riviera has broad appeal to the well-traveled.  At just 1,250 passengers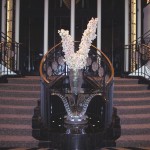 , she is a mid-size ship with a private home feeling.
The focal point of the Riviera is the Lalique Grand Staircase, opulent yet extraordinarily tasteful.
The target market skews to couples in their 50's. Â Many of the passengers are repeaters. Primary attractions are the lack of a children's program (except Alaska) and the country club casual ambiance. Â Warm friendliness combined with elegant graciousness welcomes discerning passengers.
Standard cabins are classy and very comfortable. Â Storage is more than adequate. Â The bath is lovely and
remarkable for ships with a tub and separate shower and expansive marble.  And as a bonus, there are FIVE single outlets in the cabin with one on each side of the beds for cell phone chargers!
Suggestions would be for a memory foam topper when beds are converted to Queen. Â Raise the mirror over the desk for drying hair or put a plug in the bath.
Near the end of the cruise we sailed in winds of over 50 knots with whitecaps.  The ship exceeded my expectations and handled the seas remarkably.  However the cabin was the star, with self closing drawers and magnetic closures on the closet doors.  The cabin was absent the rattle that happens on other ships.  It was always pleasantly peaceful with no noise wafting in from adjoining cabins or the hallway.
Upper premium but not luxury, Oceania strives to be known for its great food and wine. Â Apollo catering provided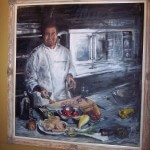 the level of service they are well known for servicing food, beverages and cabins.
Foodies will delight in cooking classes and La Reserve as well as top of the line specialty restaurants, with Red Ginger being a favorite. Â The Culinary Director is Jacques Pepin and the Godmother of this ship is Cat Cora (A popular TV Iron Chef).
Culinary discovery tours with a chef are new.  All day tours that can be pre-booked.  The Bon Appetite Culinary experience has proven to be very popular and the Oceania cookbook  is available at Amazon.
Canyon Ranch operates the spa, beauty and fitness centers on board offering their acclaimed treatments and Canyon Ranch menus are available for those looking for lighter fare.
Entertainment is ramped up on Riviera as a conscious decision and will be extended fleet wide.  However, being able to entertain yourself is always a plus on a smaller ship.
Coming soon is a new self-guided art tour and book on the art of Oceania. Â The art is eclectic; some of it is disharmonic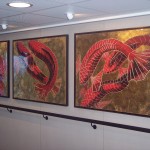 with the furnishing.
New shore excursion packages are offered with an overall reduction in costs on average of 25-40%Â  in order to deliver more value. Â Upper end clients will want to pre-book private excursions as standard excursions are, in fact, standard.
Destination oriented and port intensive Oceania saw the need to allow clients a chance to rest and enjoy the ships, so there will be at least one sea day per sailing for new sailings.
Differences between Marina and her sister ship Riviera are small, but important. Â It is more of refinements than changes.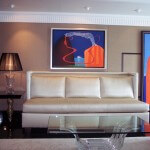 One of the biggest changes are higher ceilings in the restaurants.  A smaller change was moving the wait stations for better flow.   Another big change is the large Thalassotherapy Pool, which replaced two Jacuzzis.
Some returning Oceania passengers continue to prefer the smaller ships, but product is consistent within both the smaller and larger ships.
New builds will come as occupancy on the current ships fill probably on the Riviera platform. Regent will probably get the next ship.
New loyalty programs coming soon will have reduced rate internet package and tiers will start sooner than the current program.
2013 sales are ahead of 2012.  South Pacific is HOT as is Asia and South America.  Riviera in the Caribbean offer some of the best availability.
(Based on a May 2012 sailing)