Imagine that you are newly retired and it is a perfect summer day, there is a gentle breeze and the sounds of nature as you read with relaxed abandon in a hammock near the water. Â Your su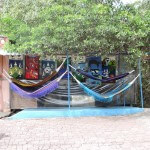 mmer project is to examine mankind and you have Darwin's "Origin of the Species" almost completed as you drift into a deep and restful nap.
During your nap, scenes of the past merge with the fascinating accounts of Darwin's travels and you find yourself in an involved dream combining summer camps of your youth with the intricate explanations of Darwin's new found world.
Dorms are replaced with comfortable cabins and you have your spouse with you. Â Some of the campers are a little older, some a little younger, but they all share a passion for knowledge and nature. Â There is kayaking and a glass bottom boat and Zodiacs that whisk you away to all the sights you just read about. Â You see volcanic rocks, boulders and white sand beaches. Â There are sea lions everywhere and birds of all sizes. Â Crabs from black to red and birds with blue feet!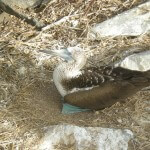 Arts and Crafts are replaced with photography workshops and popsicles with Tree Tomato Sorbet.  There are still swimming and snorkeling and hiking, but now there are Naturalists to guide and explain this magical place.  Sing-a-longs are replaced with presentations on geology and history.
You awaken drunk from the exhilaration of experiencing all the sites in your dream that you had been reading about and then you realize that just before you dozed off, your spouse had slipped a Lindblad brochure into your book. Â You realize that this adult summer camp on steroids is just a phone call away to your trusted travel advisor.
Expedition cruising is not like any other type of travel.  Travel into the Galapagos is also unique and combining the two creates an interesting combination. 160,000 visitors a year are highly regulated by the Ecuadorian government to lessen the impact on this fragile environment.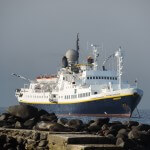 Climate is highly variable. Â My sailing in September found mild temperate weather with little rain and few children. Â It was just right for those of us who are not avid water enthusiasts. Â This is considered a year round destination. Â Summer can be brutally hot and humid, but is ideal for under water activities.
Passengers on board tend to be mature Americans. There were three children on board my sailing and the kid count on each sailing is highly variable with summer sailings when school is out having a kid count as high as thirty.
The Endeavor is a vintage vessel.  There are numerous stairs and no elevators.  This is not a ship for the mobility challenged.  Many areas that are normally crew only are open to the passengers including the forward bow and bridge.
Our Category 4 cabin was functional and had all of the basic amenities. Â Beds were fixed bunk size, smaller than a standard twin which could be an issue for the very tall, since the mattresses are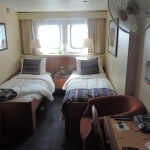 within a wooden box.  There are 110 and 220 power plugs.  Storage is adequate.  There are no room keys or in room safes.  There is a locking drawer and I found it a relief to not have to keep up with a key.  Cabins are serviced three times a day.
Most activities are included and revolve around the spectacular scenery including hiking, swimming, snorkeling, glass bottom boats and kayaking. Â There are numerous naturalist lectures. Â Landings are accomplished via zodiacs, an accomplishment not for the unadventurous.
Dining is limited to three meals a day with breakfast and lunch served buffet style.  There is no formal room service.  There are coffee, tea and cookies in the library and soft drinks, coffee, tea and fruit in the lounge.  There is one full bar with a daily recap during cocktail hour with hors d'ouevres and self service beer that is pay as you go in the lounge.  Specialty coffees are available in the main dining room including decaf.
There is a doctor on board and her services are included.
If you like massages, schedule one as soon as you get on for the glass bottom boat massage. Â Well worth the time and they have a weekly schedule by the massage appointment times so that you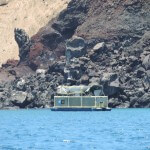 can choose a time that works out for your interests. Â I saw many colorful fish and the person before me had sea lions frolicking under the boat. Â The breeze, the sea sounds and the calls of the sea lions make this a magical hour and an extraordinary value.
Even though this is a ship with officers and crew, you feel that you have been welcomed into a big extended Ecuadorian family. Â The other passengers play the parts of distant relatives and friends yet to be discovered. Â Pride in Lindblad and National Geographic is everywhere.
Be a little early to get on the first Zodiac so that you don't have to wait for the group prior to "play through."
Most photos were taken with a Nikon Coolpix P520. I found the Lens-shift Vibration Reduction helpful in particular with the shots from the zodiacs.
If you sign up for the Kayak show up, there is very limited availability and generally a waiting list, however, everyone had an opportunity to Kayak.
Just try it……really the half wet suits make snorkeling and swimming better even in cool weather and who knows if you will be back.
>Pack a watch. Â Everything runs with military precision reminding me of a river cruise.
There is Internet with Wi-Fi but it is very slow. Â Cell service is sometimes available and generally only on open decks and in lower signal technologies.
Go in an extra night early. Â If possible book through Lindblad. Â Getting to Guayaquil is a tiring and lengthy process. Â I cannot imagine getting in late the night before the 5:30 a.m. wake up call. Tours start the first afternoon so arriving a night early allows you to be ready to hit the ship full tilt.
In hindsight, I wish I would have gotten $100 in $10's to pass out as extra tips.  The recommended minimum amount is $180 per person for the week; however, it seemed inadequate for the service rendered.
Consider sun blocking clothing and wide brimmed hats with straps are a must.
Target passengers are curious and self contained. They are content to be part of a small group of like minded individuals. Passengers expecting butlers, pillow top king beds and designer inspired balcony suites should look elsewhere. Â These voyages are for active explorers who first and foremost are destination oriented. Â The ship is comfortable and unpretentious reminding me of a much loved familiar vacation home. Â Fellow passengers are friendly without being obtrusive.
The next refit is scheduled for May 2014 with extensive soft goods refurbishments. Â Since the ship is impeccably maintained for a Grand Dame, this should afford her many more years of service. Â Oddly, management has not changed the bedding to convertible twins, a move that would make them much more desirable to their core target demographics.
One suggestion to LEX is to add memory foam toppers and pillow top mattress pads as the bedding is too firm for its primarily mature market.
(Written by Linda Allen on a 7-night sailing on the Lindblad Endeavor in September 2013)
P.S. This is such an intense trip that I find myself wishing for a few days to put my thoughts in order. Â Other passengers are headed directly to another grand adventure, but I am not sure that I am yet ready to process another destination. Â If you are continuing, consider a day or two to rest and process this extraordinary life event.