Istanbul is a world class city that curious travelers should explore and savor.  The city is busy as population has exploded in recent years.  It is a popular vacation spot for Europeans.  I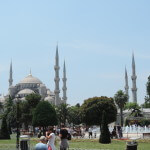 felt both safe and welcome.
If you have a limited amount of time, I recommend using a professional Destination Management Company.  I utilized Sea Song Tours.  If you plan on going it alone allow three full sightseeing days.  Include a boat ride on the Bosphorus and make sure you have time just to enjoy the sights and sounds. We found ourselves just lingering and soaking up the ambiance.
I have not been in an area that is predominately Muslim before and the first few full burkas were a surprise.  Mosques are plentiful and the most famous of them, The Blue Mosque, is still being used.  Prayer times are based on sun position rather than clock times, so be sure and check the hours it is open to the public.
By all means, make sure you do an after dark tour as the city is pretty by day and gorgeous after dark. Â Be careful with the timing as the night tour the ship offered started at 6:30 which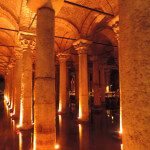 was not even close to dark at this time of year.
One advantage to arranging for private guides is that English is not widely spoken and few people are bilingual.
I arrived in late June, weather was perfect but Istanbul has four distinct seasons with VERY hot summers. Â Spring and fall are preferred times to visit.
Streets can be treacherous and I overhead more than one person say that they had minor injuries from looking at the captivating city rather than the uneven walkways. ‎ The downtown area is best accomplished on foot.  Expect uneven surfaces and many stairs and a fair amount of walking from sight to sight.
We did not change money.  For larger purchases we used credit cards.  USD and Euro are widely accepted and we found the few transactions to be at a fair rate.  Change was given in the Turkish ‎Lira, not a bad idea to have for the many pay as you go restrooms.
‎I am not much for shopping, but we did buy a trinket at the Grand Bazaar.  I personally enjoyed looking at the wares of the many street vendors who sell both merchandise and food.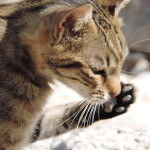 Dogs and cats roam the area and the ones I saw seemed well socialized.  It seemed that they were treated kindly.  Many of them were with ear tags for identification.  This community kindness to ‎animals spoke to me about the overall tolerance and kind nature of the people.
The Bosphorus is the place to be, but don't be surprised at high room rates, particularly if they have a water view. Â Hiring a guide may become more economical when you factor in lodging costs and meals since you can see so much more in a day with a driver and guide. Â Many of the luxury hotels are in the central area including the Ritz and the Four Seasons.