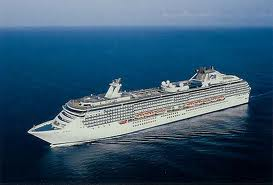 The Island Princess is classical nautical with a splash of contemporary and a dash of deco much like a perfectly blended martini from the Crooners Bar.
The public areas are very comfortable. Â Open and tasteful with warm woods and a distinct old world nautical theme.
Island Princess and her sister ship Coral Princess have broad appeal for clients who desire a more traditional experience with excellent service on ships that are now considered mid size.  Target passengers would be mature couples.  Families like these ships when school is out, but families should reserve early because Princess is the only major cruise line that caps the number of children in each group on each sailing.
The Island Princess has a wholesome feel with pleasant live music wafting through the 4 deck high Centrum featuring a proper library, active card room, coffee bar, internet area, shopping, cigar lounge, and martini bar, and assorted low key activities.  Happily, the photo gallery, art gallery and wedding chapel have dedicated space leaving the Centrum area to not have to serve those dual functions.  However, there is no dedicated meeting space so all public rooms on the ship are used for various meetings depending on requirements of each sailing.
The serene lotus spa area with a solarium is very relaxing.  Of note, there is no al fresco dining option except by the pool in the public areas.  There are some very quiet areas on the fantail starting on Deck 8 up to Deck 11 overlooking the wake of the ship.  These areas, which have loungers, are not obvious on the deck plan. The Sanctuary, which is a serene adults only area on the fantail, requires a daily charge of $20 or a reduced per day charge if purchased by the voyage.  There are no forward facing or panoramic view lounges.
Main dining room foods were very good.  The buffet is best avoided due to congestion.  Brewed coffee is served at the coffee bar on Deck 5.  This brewed coffee is available for a charge.  Specialty coffees are at a reasonable cost.  I ordered a small, very tasty Vanilla Bean Latte.  The charge was $2.75 plus tip.
There is proper lunch service in the main dining room, but unfortunately it was somewhat hidden in the daily newsletter.  The buffet is not up to current industry standards and very limited pub food at Bayou Cafe is sometimes offered for lunch.
With regards to the cabin.  I liked the dressing area; a nice improvement would be a curtain separating dressing area from sleeping area.  A more comfortable reading chair would be welcomed.  The furniture is light and functional with cherry trim.  Storage and lighting are adequate.  The cabins are somewhat dated, but there are plans to update soft goods and this should be adequate for the cabins if bedding is also replaced.
During disembarkation, passengers are gathered in public areas by their assigned disembarkation number until their number clears and general announcements are not made.
Things to pack:
Post it note for LED above hair dryer if you are light sensitive, if not, it will serve as a night light.
Power strip, (large chargers have to be plugged in solo) there are 2 plugs on the desk/vanity side by side.
 (Based on a 4-night sailing, Vancouver to Los Angeles, September 2011)