I've always enjoyed working with International Expeditions and find the team to be knowledgeable and friendly, so when I had the opportunity to travel with IE to the Amazon I was excited.
Sailing on the Amazon is so exotic that I always thought it was a trip that would escape me. After experiencing it for the first time, I can see why travelers return time after time as it is a year-round destination. Even now, I find myself wondering what it would be like in May……as the experience is so different in high water than my low water sailing.
The Amazon Star was built in 2013 but underwent an extensive refurbishment in September 2016. She lost her Spanish name and took on an English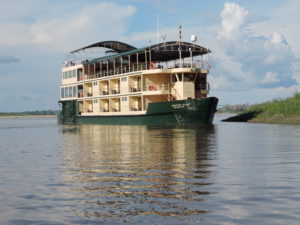 name with the same meaning since the vast majority of her guests hail from the United States. Target guests are 45 and up, well-traveled and curious. We had a very diverse mix of fellow guests, each such a delight that it truly was a sad farewell.
If looking at reviews, look for the ones "post refurb" as apparently there was an issue with vibration before, which was successfully addressed in the September '16 refurb.
IE does a great job with their pre-trip information. Although booking several months in advance allows you to savor the anticipation of the upcoming adventure. It also allows you time to acquire the gear that may not be in your travel arsenal. Reserving several months in advance allows time to read and watch documentaries and only adds to the pleasure of such an eventful adventure. Interestingly, much of the gear I packed I already owned from trips to Galapagos, Egypt, Patagonia and Cape Horn; however, we did treat all clothing with Sawyer Permethrin Clothing Insect Repellent Spray.
Traveling with such an experienced operator as IE alleviates the stress of working out the myriad of details as their years of experience and contacts creates a seamless well executed vacation. From the time we left baggage claim in Lima, Peru, we were under their umbrella. They assisted with luggage, drove us safely through chaos and stood by at the hotel to make sure we were happily checked into our room and on the elevator. Such pleasant competence lasted until we were safely checked into our flights to return home.
Accommodations at the Swissotel Lima were so comfortable that it only portends of what is to come. Although a night is included with the package, IE will, upon request, arrange another night at a nominal cost so that you still have the expert transfer service, which I do recommend. Even landing shortly after 8 PM, we were not settled in until after 11 with no meals. Some others who had not taken advantage of this found themselves with only four hours of sleep before embarking on a very busy week.
Travel to Lima often requires a red-eye, but you may want to consider an overnight in Miami at the Hotel within the airport in Terminal E since so many flights to and from Lima connect through MIA. This allowed us to do only day flights coming and going.
The included city tour in Iquitos was interesting and we were spellbound by the local transportation. The local taxi service is on tuk-tuks and their crazy,
frenzied variety of styles, cargo and passenger mix made me feel like we were watching a circus.
Poverty in the rural areas is not worn as a burden. The people to our standards are all but destitute, but they take life in stride and toil as they have for countless generations enjoying the bounty of the earth and the comfort of close knit families and communities. Passengers are encouraged to only give school supplies and not encourage begging. The purchase of handicrafts made in the local villages is also encouraged but not expected.
Dining on board is self-serve buffet style, primarily locally sourced from Peru with most dishes Peruvian style. It was uniformly well received as were the Peruvian wines and local beers.
Service is unobtrusive and efficient. Requests are responded to very promptly. Naturalist guides are excellent, entertaining and knowledgeable.
Entertainment is an unexpected treat with some of the most entertaining and enthusiastic musicians playing a diverse portfolio. Interestingly, many years ago the original owner developed a plan to hire musicians to staff positions on the ship such as housekeeping reasoning that they could more easily train musicians for service jobs than trying to train service workers to be musicians. Simple but brilliant logic that is a definite success.
The crew is certainly a highlight of the trip, personable, open and joyful. It leaves no doubt that they enjoy their job and take great pride in their work and enjoy presenting their country and its people.
The communal "living room" is utilized for lectures, movies and reading at various times. The heart of the ships is on Deck 3 around the bar. This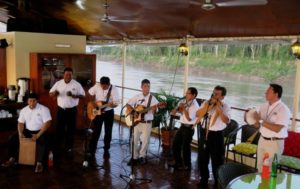 covered open area is cooled by numerous overhead fans and is the place for casual conversation as well as the nightly performance of the house band the "Chunky Monkeys."
Rather than a printed daily activity sheet, there are two white boards listing the day's activities and their times. Schedules can change due to weather. Wake up service is provided via a knock at the door. Although keys are provided, most do not utilize, not unusual for small expedition ships.
Also, and not unusual for expedition ships, the ship is not ADA compliant. Potential clients should not have any difficulty walking, climbing stairs or walking on uneven ground. There are no medical services on board.
Cabins are comfortable and "big enough." True of most very small ships, cabins are generally utilized for sleeping and showering and most of the time guests are in public area or on excursion. Storage is plentiful, however, hangers are not. I always pack my clothes in outfits on hangers so it was not an issue for me, but you may want to include a supply of hangers.
Activities on excursion include hiking, but mainly wildlife spotting from skiffs. This trip is a birder's delight. There are also opportunities for kayaking,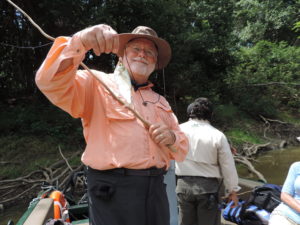 paddle boarding, fishing and swimming. There is a visit to a city market and village visits.
The relationship that IE has with the places it calls is heartwarming. The company clearly cares about the Amazon and her people and the mutual respect is clearly evident. The commitment by IE to the communities it calls on and to the Amazon and its environment is part of the IE culture. The itinerary is orchestrated perfectly and provides an extensive overview of the region.
While I was on this trip, Conde Nast Traveler published this at their website under "10 Places to Visit Before They're Lost to Climate Change":
"The largest rainforest on Earth, the Amazon covers roughly 40 percent of South America. Travelers will find scarlet macaws and blue poison dart frogs living side-by-side with jaguars and brown-throated sloths in the wet broadleaf rainforest. Yet despite its size, climate change has made the Amazon a fragile habitat. Extreme droughts have left tree species throughout the tropical jungle parched, leaving them vulnerable to large-scale dieback—as well as more susceptible to forest fires……Getty"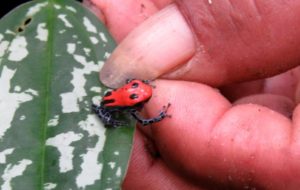 Interestingly what I wonder about is how cell phones will change the cultures along the rivers as the cell towers bring technology into the jungles.
Tips
There are small woven handheld fans in the cabins, tuck it in your day pack as it will come in handy.
The ship has an open bridge while the ship is sailing in daylight, contact the cruise director for a tour as you will be surprised how busy the captain is.
Stargazing on Deck 4 is magical.
If you do not want to use your limited time in port shopping, there is a nice selection of local products on board in the gift cabinet.
There is indeed Wi-Fi, unique to the Amazon Star, however it is not high speed and is operated as a service by IE at a loss to attract younger working clients. It is adequate for email but not large files or photos. Cell service is available at times.
Complimentary laundry service is available on the ship, however, as is typical with many ships, do not send anything that cannot stand hot water washing; certainly do not send wool socks.
Complimentary 15-minute chair massages are also available exclusive of tip.
Staying post cruise at the Wyndam directly across the street from the terminal in Lima was not only comfortable and convenient, but allowed me the luxury of a reasonably priced massage. All of the spa products are attractively priced especially when compared to most cruise and hotel rates.
Clocks are not prevalent on the ship and since activities are so punctual, a watch is very handy.
In my research, this article from Consumer's' Reports was one of the most helpful regarding mosquitoes. Just after returning, my son asked me about the mosquitoes. I frankly told him they were no worse than at home and certainly less than his current home in Minnesota. Although they would be more of an issue in wet season than they were during my dry season cruise.
Things I bought that worked, Waterproof duffle, Frogg Toggs Poncho and hat. (We found the ponchos at Wal-Mart after we ordered on line) ExOfficio products including underwear. Deet Wipes, we found this to work better than creams.
What I bought and did not use, but may have in high water, bug jacket and pants. We are keeping them for camping in Minnesota.
And things that did not…….Zap It
At the end of our trip, my friend and client Sue summed it up…"IE is a phenomenal experience."
(Written on a September 2016 sailing by Linda Allen-Speer)