Haimark charters and operates the MV Saint Laurent, owned by Clipper, a cargo company with four cruise ships in its fleet.  ‎Haimark has been a successful operator of Asia river cruises for several years.  This is the first ship to be operated by Haimark in North America.  Sailings are divided into English and French sailings, so you need to make sure you are at the US website.
Saint Laurent has been skillfully refurbished.  She was purpose built by Delta Queen Costal Voyages in 2001 as the Cape May Light‎ for the same types of itineraries that she currently schedules.  After their bankruptcy, she was renamed Sea Voyager and until acquired by Clipper, she spent much of her time laid up.‎
Most unusual is embarking by tender at Navy Pier Chicago for the Great Lakes sailing to Montreal. Check-in was done in the Compass Room‎ on the ship.  Although we were told to be there by 3:30, we were not actually in our cabin until almost 5. Since it was a pleasant overcast day it was not a real issue,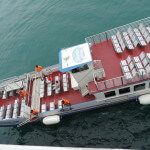 however I would not want to experience this in the rain.
Cabins are very similar. Our cabin on Deck 4 was essentially the same as the ones we saw on Decks 1 and 3.  I would avoid the cabins on Deck 4, due to noise and the public area directly out from the window. Cabins are compact and efficient reminding me of an expedition ship.  ‎Luxury L'Occitane bath ‎products, big fluffy towels and comfy robes are a luxury experience.  Complimentary laundry, internet, physician services and house spirits add to the upscale ambiance.
I am struck by how familiar the vessel feels.  I realize that it harkens to an earlier‎ time and reminds me of the beloved Norway.  Blues & creams, crystal and rich woods, abundant light and mirrors blend with fresh flowers to embrace nautical ambiance.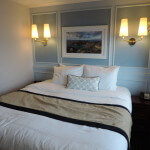 ‎
And then there are shore excursions…..is this a river cruise?  Gentle walkers, whisperers, and inclusive tours?  Tours were limited and ranged from excellent on Macinac Island and Detroit to quizzical. Why did they stop for Sault Ste. Marie? Tours are accurately described, but if a Native American Pow Wow is not your cup of tea, be forewarned that there is no concierge on board to help you find an alternative.  When we asked to be changed to the afternoon tour in Little Current rather than the morning tour, it was not possible.  So after lunch, we just wandered into town and found a local who called the local taxi service for a drive about.‎
There is an enrichment program.  Sight lines are an issue and sound could be better.  ‎The speaker was informed, but uninspiring.  The cruise director was pleasant and available, the ship's officers were unobtrusive.
There is no exercise room but nine times around Deck 4 is a mile. Â There is a small spa with one talented lady providing services from head to toe; hair, nails and massage.
There are two dining options.  A traditional main dining room on Deck 1, open seating. There is an open air covered buffet is on Deck 4‎ for breakfast and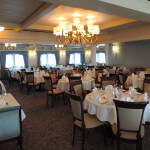 lunch and reserved hot stones at dinner. Â The hot stone dinner is a favorite and should be reserved for more than one night early in the cruise. Hot stone dinners are individual grilling experiences.
Entertainment is a talented duo performing age appropriate melodies. Â In-cabin entertainment is limited to just a few channels. Â This is not a high energy cruise and is best suited to passengers who do not require constant activity. Â Ambitious sea gazing and deck napping are popular activities and ample space is provided for both. Â Reading and playing cards are popular diversions as is the poking at small hand held devices.
Standard wine and spirits are complimentary, free-flowing and served by pleasant smiling faces.  The only improvement I would suggest is that only fresh lemon be used. ‎
Included alcohol and the smaller cabins encourage passengers to ‎utilize the Compass Room as a large communal living room. There is a coffee/tea station at the rear of the room with magical delights that appear at various times for tea time, late night snacks, etc.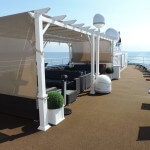 Food is under the direction of a talented German chef.  Some items could have been warmer, but selection, presentation and quality was very good.  My personal preference would be for a larger variety of fresh vegetables.  I did not ask for it but feel that if I had, the chef would have been pleased to provide them.
Most passengers seemed pleased with many comments on the exceptional diversity of the other passengers; well-traveled, intelligent and mature.  Passengers on board are some of the most interesting and well-traveled that we have ever sailed with.  On this sailing, the demographics eschews older than other ships. There were several 90+ passengers including a WWII vet.
After a week on the ship I would rate it 5 Star. Â The ship has only been in service a few weeks and I anticipate as the crew settles in and they become more familiar with the itineraries, that the experience will become more orchestrated.
I would suggest that you make all pre and post arrangements with Haimark as they are going into unique destinations.
Haimark has plans for Cuba travel with this vessel since its shallow draft is suited to explore the island's many harbors.