Although much of the year is good for visiting Dublin, I found May to be a particular delight.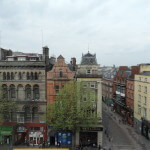 The new spring green accented the spring bulbs and shrubs in full bloom.
With the exception of driving on the left, most things feel familiar for North Americans. This is a safe friendly city where not a thought is given to wandering after dark. Â Dublin enjoyed benign neglect during the rebuilding 70's era so little of it was rebuilt in the modern style and buildings are now very protected.
The Irish that I spoke to are very welcoming of US visitors as so many of their family at one time immigrated to the states. Â A surprising number that I met, even if not well traveled, had been to the states, some several times.
Self drive for those who would like to see the outlying areas or more of the country is quite doable, but I would suggest a night in Dublin to adjust to the time change before getting behind the wheel on the left side. Â Even if comfortable with a manual transmission, it would be good to upgrade to an automatic as shifting with your left hand while driving on the left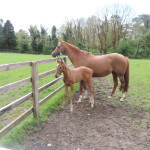 can be challenging.
Public transportation is well utilized and the train is a viable transportation option. "Hop On Hop Off" is a good way to acclimate if you have ample time to explore on your own in Dublin.
The weather is variable from minute to minute so being prepared by putting on sunblock and taking sunshades and rain gear is sensible. Â Walking shoes are a must due to cobblestones, Â  etc.
The food in Ireland has improved in the last several years and residents now rightfully boast about the quality and options. Â Local sourced is in favor and Ireland enjoys high quality beef, lamb and dairy products. Â Guinness and Jameson are sources of local pride. Â Sports, particularly equestrian sports are closely followed.
Hotel options are varied. Â I stayed at The Westin for two nights and it is perfect for walking and "Hop On and Hop Off". Â If you would like to step into an elegant era of the past with today's amenities like Wi-Fi and yesterday's large soaking tubs along with an elegant decor then consider The Shelbourne, a local institution which is convenient to a large shopping mall. Â  The Merrion Hotel is also a luxury hotel but recent renovations give it a more modern feel in a historic property.
For charming luxury properties near Dublin consider The Dromoland Castle, Gregans Castle Hotel, Ballyfin or K Club.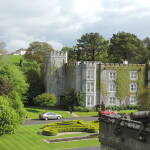 Golf is extremely popular in Ireland. Â And when I mentioned to a golfer that I was at first surprised that they cut the grass in the rain he said, "yes and we play in the rain"……which I saw as well.
Dublin seems young and I could see this city appealing very much to the under 30 crowd. The Temple Bar area is very popular with tourists. The locals, I am told, still prefer the local pubs where music is an important element.
Delis and markets are common in Dublin, so this city appeals to all demographics making it vibrant.