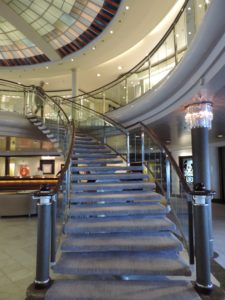 Consistency is a hallmark of Crystal Cruises. Every returning passenger knows that they will always be a welcome guest. The crew is friendly and acutely observant to both spoken and unspoken requests. When I asked for white wine that was not chilled due to the high quality of the complimentary offering the sommelier was pleasantly surprised and made sure I had white wine every evening at my preferred temperature.
All over the ship there was talk about the upcoming multi-million-dollar refurbishment to be completed by early October. Although the ship is still attractive I am sure a refurbishment will return her to her stunning glory. The most notable improvement will be open seating dining with new dining venues.
Although the beds are so very comfortable there was an issue with the convertible beds staying put when together. However, in typical Crystal style it was rectified immediately upon request.
Entertainment is varied, the staff performers are very talented. Do arrive early for a good seat as site lines are an issue as well as to enjoy bar service at your seat until the performance starts. The one disappointment was how very small the piano bar was so that even though this was our preferred venue there was rarely space. The Gentlemen hosts were kept busy. Music venues are prevalent with both vocals and instrumentals.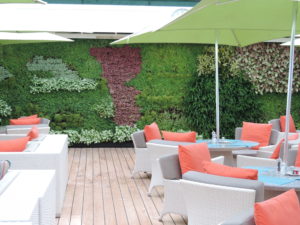 Favorite areas are on top deck 11 the forward Palm Court with Panoramic views. For walking deck 7 offers a full promenade.
Enrichment lectures are very informative varied and repeated on the in-room television. Crystal has a lovely movie theater showing new releases with popcorn. Various classes are also offered including the always popular computer classes.
Afternoon Teas are well attended with live music. The most popular is the Mozart themed Tea with costumed servers and an expansive selection of beautifully presented delicacies.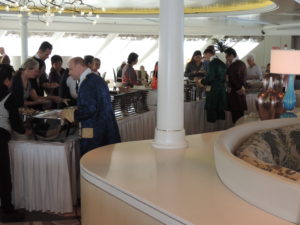 Our standard balcony cabin had more than enough storage for a two-week cruise and the complimentary guest laundry makes packing easier for longer cruises.
Crystal's all-inclusive policy is very much appreciated by guests. Guests seem to be out more and as I wandered on a sea day taking photos I was surprised at the variety of activities being enjoyed by the guests indoors on a blustery day en route to Iceland. From the theater to computer classes to painting classes numerous activities were being enjoyed both individually and in groups.
Demographics skew to the retired with many doing two to three back to back segments.
(based on a May 2017 sailing)