Sometimes it is more important to know what something is not before you discover what it is…….
Crystal is not stuffy, pretentious or stiff.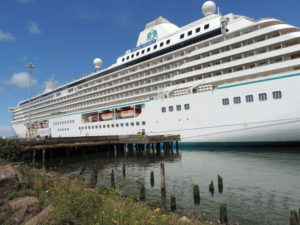 Crystal is refined, relaxed and relaxing.  Elegant in simple ways and attentive to details.
The ship is meticulously maintained, her age not at all apparent.  She is kept spotless, but in such an unobtrusive way that you wonder if an army of cleaners descend ‎after the last "Do Not Disturb" button is pressed.
Cabins have rich dark woods with generous storage. Â Baths have marble and a good sized tub shower combination, which could be a problem for someone with mobility issues. Â Beds are firm, but foam egg crate toppers are available on request.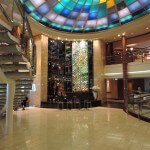 My late June sailing found many babies among the passengers.  There were also individual families and family groups.  One guest we met is a full time resident, one of four on the ship.  It is not hard to understand how one could live on a Crystal ship as the routine quickly becomes a comfortable pattern as the days slip by.  Those who have sailed on Crystal in the past understand the logic of back-to-back sailings and many we meet are on for more than one sailing.
Although all ages are on board, the passengers seem upscale and well-traveled. ‎ We met many passengers from Asia and Australia.  Only half we are told are North American.
Entertainment is of the highest quality. Â Production shows with expert performers, comedian, pianist, etc. Â Do be advised that some of the shows are very loud.
Dining is a highlight. Â In the main dining room a new "Modern Menu" has been added in addition to the Classic Menu. Â Dishes on the Modern Menu are smaller, lighter and creative. Â We
choose from both and almost every dish was very good. Â A few times we did wish that a dish was warmer, but as a whole, dining is excellent.
The new all inclusive feature is well received. Â Bar service is exceptional.
Officers are not as visible on this sailing as I would have anticipated.
I was told by one of the single ladies that Crystal and Cunard are currently the only North American oriented cruise lines with Gentleman Hosts who are available for dancing and conversation much of the evening.
Passengers discuss the cost of Crystal…..sigh…..and always report it is worth it.  Many were rebooking‎ on board.
There was an eclectic mix of guest artists and lecturers on board. Â Lessons in knitting, bridge and watercolor and lectures on history and movie casting were featured along with movies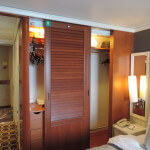 and exercise programs.
The medical department could not have been more helpful or friendly.  When we decided to stay in Europe after the cruise, they found my prescription medications and had them delivered to the ship within a few hours at a very reasonable cost.
TIPS
At the very aft of the ship on the passenger decks are comfy loungers with the sound of the wake when at sea.
If you want to leave a message for another cabin but don't want to risk waking them, just call the operator and they can leave a voice mail without ringing the cabin.
I was assigned 9037 at the bow break of the ship, a lovely location for listening to the sounds of the ship in the sea.
‎Self service laundry was well utilized as most passengers were doing other trips in conjunction.
(Based on a 10-night sailing in the Mediterranean, June 2014)