Stepping aboard a Crystal ship feels like going home. The atmosphere is relaxed, passengers and staff are pleasant and friendly. Food is very good the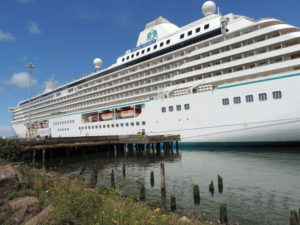 only complaint I heard regarded the fixed dining. Some of the passengers in late dining found it too late. Unlike most other luxury products Crystal does not have open dining.
My early June sailing along the Western Seaboard found international passengers of all ages with many families and quite a few children and teens. The newly renovated children's area is attractive but rather small when compared to other cruise lines specifically targeting the family market, this however, did not seem to dampen the joy of the children on board as all seemed to be very content.
A ship the size of Crystal Symphony seems to be perfect for my taste. Easy to navigate but large enough to offer many varied activities including guest lectures, bridge, needlepoint classes and dance lessons. The Crystal Ambassadors are well received as both social hosts and dance partners.   Dancing is a very popular pastime.  High Teas are an event and well attended in the high and forward Palm Court.
Shore excursions are varied, well executed and comparably priced to other lines.
The relaxed dress code was appreciated, but formal and semi-formal attire was prevalent at the Captain's reception. The capable photographers were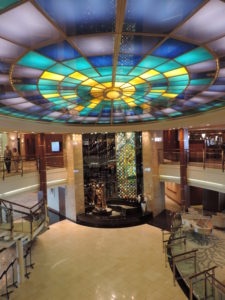 kept quite busy.
Complimentary internet was available even in standard cabins but easier to sign up in the computer lounge. For social media it was more than adequate.
It seemed to be undiscovered but Tastes was a fun dining treat. Tapas were served family style with panoramic views on deck 12. The atmosphere is serene and the dishes were delicious. Certainly try this early in the cruise as there are so many delightful dishes that you may want to return even though the menu is fixed. The cod was a table favorite but make sure you save room for desert. There is a full bar and a specialty lavender infused drink only available in Tastes.
Make sure you book your specialty restaurant reservations as soon as possible as they book up well in advance in particular the earlier dining times. Everything we tried in Silk Road was wonderful but do try the Gin & Sake martini, it may sound odd but it is amazingly smooth.
Crystal enjoys a large repeat factor and unique itineraries are known for being heavily booked a year prior to sailing. Booking early is be best way to obtain the best cabin selection. Crystal currently has cruises available for reservation 24 months before departure.
(written on a June 2016 sailing from San Francisco to Vancouver)