The first night I was on the ship, I wandered the ship at sunset and realized that I was on a sailing that would only give me a taste of this complex product.  It was a very good and rich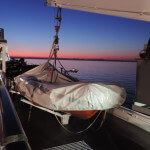 experience, but such a short cruise had me looking longingly at their even more exotic longer itineraries.  The small vessels go to some of the most interesting, far-flung destination on the planet in great comfort and style.
‎Known for exploring, Ponant has its own landing craft on board for wet landings.  For the Med cruise, I am on the only one the life boats are deployed as tenders with the exception of Parga where the zodiacs were deployed for beach transfers.
These ships are head turners in port resembling a super-sized yacht. Â Once on board they continue to impress. Â Standard cabins are of good size (200 square feet + 45 square foot balcony). Â Storage is adequate and the cabin is comfortable except for the only chair which does not work well for reading or watching TV. Â There is one 110 and two 220 outlets, one of which is by the bed (you have to move the radio).
The balcony wood railing is high (estimated at 48″) and below is painted white steel rather than Plexiglas. Â My guess is that this is due to the expedition status of the ship.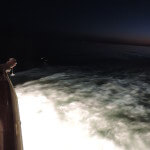 The bath in a standard cabin is split with the toilet being in a small compartment adjacent to the sink and shower.  There is a screen that slides over the window between the bedroom and shower area.  Interestingly enough, it is operated from the  bedroom rather than the bath.  The bed is comfortable although I prefer a top sheet under the duvet which was promptly provided upon request.
Decorating throughout the ship is elegant contemporary with subdued serene hues. Â Fresh flowers are replaced with high quality reproductions that cause you to touch to be sure, this is a practical touch for an expedition ship. Â The hallways are spacious; there are forward and aft elevators and one set of passenger stairs midship.
Although the ship appears to be ADA compliant, however it is not wheelchair friendly.  The cruise I am on is physically challenging on land with long walks, many stairs and uneven surfaces…. which is expected for an expedition cruise.
The itinerary is unique with calls in Parga and Corinth with it's first sailing through the Corinth Canal.  Dubrovnik found us in port with several ‎big ships. Seeing this emphasized the pleasure of being in the other smaller ports.  Being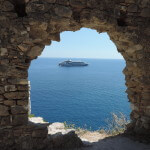 in a different port each day had great appeal for one of the "non-cruisers" that I chatted with.
Dining is somewhat confusing. ‎ It is open dining listed in the daily program at 7:30, however you can arrive until 9.  There are only a couple of tables for two with the expectation that guests will sit at community tables.  We were encouraged to dine with other guests but accommodated at tables for two.  Dining food and service is at a premium level rather than luxury.  After seven days, I was still searching for a reliable source of good coffee. ‎ Oddly, reservations are required at the buffet for dinner.  Tables for two can be pre-reserved at the buffet for dinner, but not the main dining room.  The menu is similar in both restaurants.
Entertainment for this size ship is remarkable in both quality and diversity.  The  costumes are unique as are the programs including one of the musician who played a range of wind instruments.
Clientele is international and all announcements, menus and daily programs are in English.  Many on my sailing seem to be French.  The captain reports that half of the ship is English speaking.
There are several families traveling and there is a small children's area, but there are no organized activities for the kids. Â This sailing with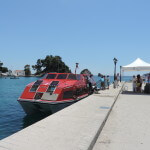 emphasis on antiquities and history may have limited appeal to most kids and teens.
The Captain is visible and approachable.  These ships have an open bridge policy.  Of interest the hotel director leaves his door open as well.  All personnel are friendly and smiling.  These ships are favorites with Tauck, so many of their clients are very familiar with this product.
Announcements are made in French and English and start sometime after 9 a.m., quite an annoyance if you are trying to sleep in.
The Spa is operated by a French company Sothys.  I had two services and they were excellent.  Prices by cruise standards are reasonable.
Tips:
You can only get to the tender station through the lounge on Deck 3 and then down steps to the tender.
Laundry service is available, but there is no self service laundry.
To turn the TV on, push the on button and wait several seconds.
Several recent movies are available on the TV in multiple languages.
There is an open bridge policy. The bridge is located on Deck 5 forward. Proceed past the crew only door unless signage indicates otherwise.
There are no classes or expert lectures. One guest lamented that he had downloaded all of his reading material to the cloud rather than his device and with the slow and unreliable Internet service, he was regretting that decision.
There is no casino on board.
Oddly, there is not a convenient hand washing station near the dining areas although hand sanitizer is available.
While on board I spoke with a member of management and there are numerous changes that will be announced in the coming months to make the product more attractive to the North American market. Â Once those are in place, I can see these ships being a favorite with the active, well-traveled, soft adventure traveler with a strong appeal to even former non-cruisers.
Le Soleal is one of a trio of sister ships including Le Boreal and L'Austral with and additional sister joining the fleet in April 2015, Le Lyrial.  Maximum capacity on these vessels is 264 double occupancy. 
(Based on a 7-night sailing on the Le Soleal in July, 2014)