We started our trip off with a 3-night stay at the Wyndham French Quarter. The staff was very helpful and friendly. Â It was located about two blocks from Bourbon Street and a great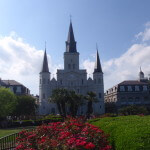 location for seeing the sights.  There is a parking garage where we parked our car during our stay in New Orleans.  During the time we were on the cruise, the parking garage was included in the price of our stay.
The traffic is crazy in New Orleans, so with our central location to everything we chose to walk.  If you prefer not to walk, there are plenty of taxis available.  The Wyndham French Quarter is an older hotel and is currently undergoing renovation.
One thing worth noting, our cruise just so happened to coincide with the Jazz and Heritage Festival in New Orleans, which made the cost of the hotel close to double so be sure and avoid this time if you are not interested in the festival. Â It is always a good idea to check before you book a cruise to see what events are going on at your embarkation port.
While in New Orleans, we visited the French Market, Jackson Square, the Hurricane Katrina and Mardi Gras museum and the aquarium. Â We took a one-hour buggy ride around the city. Â The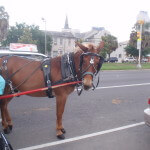 buggy ride was really fun.  Our guide, Lucy and her mule Red Bean, did a great job.  We spent a good amount of our time eating our way through New Orleans.  The food in this city is amazing from the gumbo and alligator sausage PoBoy's (my personal favorite), to the Beignets and Muffaletta sandwich and of course not to be forgotten the Hurricanes and Daiquiri's.
After our three nights in New Orleans, we boarded the Carnival Dream for a seven day cruise to Roatan, Belize and Cozumel.  We boarded the ship at 11:00 a.m. Dan and I had VIP status, which allowed us to board early.  Our friends purchased the Faster to the Fun option that Carnival offers, so they could board the ship early with us.  It worked great for them and they were able to board the ship right after the VIP's were called.  We were all on the ship and in our cabins by 11:30 a.m.  The Faster to the Fun option is limited per ship, but if it is available I would definitely recommend it if you have not reached VIP status yet.  It gives you priority embarkation and debarkation, priority luggage, and they have your cabin ready as soon as you board.
We stayed in a Cloud 9 Spa Balcony cabin.   The Cloud 9 Spa cabins were very nice and included private access to the spa area, priority spa reservations, plush robes, slippers and Elemis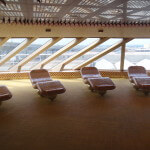 spa bath products.
The Lanai Promenade, a 20-foot-wide outdoor walkway that runs the circumference of Deck 5 (just 2.5 times around add up to a mile), was great for our morning walks. With outdoor whirlpools, oversize chess sets and covered seating areas, those who don't want to work up a sweat are also welcome.
The Lanai's outdoor seating areas open up to one of Carnival Dream's best features, Ocean Plaza.  It is an expansive meet-and-greet hub that is often missing from smaller ships. The Plaza has a specialty coffee bar, a stage with dance floor, plenty of tables and chairs, a large bar and a smaller bar offering drinks-of-the-day and coordinating snacks.
Kids, ages 2-11, are broken into three age groups and are entertained at Camp Carnival, which takes up a sizable chunk of Deck 11.
Two separate disco-like retreats are dedicated to the tweens (ages 12 to 14) and teens (ages 15 to 17). Â Kids can stay busy with mini-golf, a basketball court, outdoor movies on a jumbo screen, a water park and even a teen spa pedicure party.
Food and entertainment follow the typical Carnival pattern. The tried and true are still available yes, you can still get a soft-serve ice cream cone at midnight, and the hairy-chest contest lives on. But other options are also on the table.
You can watch from several decks above as street acrobats perform in the Dream Atrium.
You can create your own pasta creation and present it to the Pasta Bar's chef for preparation.
In addition, you can listen to rock music while laser lights flash across the deck. Sip on rum or tequila concoctions poolside at dueling theme bars, Red Frog Pub and the Blue Iguana.
It was a great trip and Carnival did a good job doing what Carnival does.
Based and written on a May 2014 trip by Natalie.