When I step aboard an Azamara ship, I immediately feel at home.  They are serene, cozy and elegant.  These small intimate ships encourage mingling of the well-traveled, mature mix of nationalities. ‎ In speaking with fellow passengers, there are many repeaters, some with many different cruises.
Since the ship's inaugural voyage in May of 2007, the attention to maintenance is obvious.  In January 2016, the Journey will undergo a two week refit in the Bahamas with the staterooms receiving extensive attention. 
We were in a standard oceanview stateroom almost mid ship on Deck 4. The location near the stairs was very convenient as Deck 4 contains the shore excursions, future cruise sales, concierge, a boutique and Guest Relations. ‎
The medical facility is also on Deck 4. Â The doctor and nurse were very pleasant and a consult with the doctor was $120 + meds. Â Insurance is not accepted.
‎Just one deck up, Deck 5, is the main dining room, Discoveries, and the Cabaret show lounge. There was also a lovely shaded area outdoors with wonderful deck chairs and unobstructed ocean vistas.
Also on Deck 5 is the Mosaic Café.  It feels like the heart of the ship.  They have reliably good coffee and snacks along with excellent bar service.  Sea days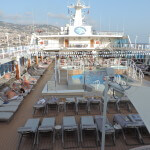 find this area abuzz.
The Discoveries Restaurant is the main open seating restaurant. Â It is an open, light and airy area with an upscale club feel. Â Service is pleasant, even when full. Â Peak dinner times can find a wait for a table. Â Lunch is more relaxed and quiet, but only available on sea days.
Unfortunately, the Cabaret Lounge is one deck level so that in order to have clear site lines, it is best to arrive early. Â The staff singers and dancers are talented and energetic. Â The costumes and lighting are excellent. Â The house band was excellent, however the sound system was robust and slightly too loud for the area. Â Entertainment had improved from my last cruise, however as is true on all small vessels, passengers should be capable of keeping themselves occupied.
It should be noted that the inclusive nature of the ship can be confusing. Â Plain coffee in the Mosaic is included, but other coffee drinks have an additional charge. Â Well-drinks are also included, but the more premium brands have a charge. Â The staff seems apologetic and since they have such a strong desire to please, it helps to know what to expect ahead of time. Â In the bar, menu charges are clearly displayed with the complimentary beverages on the last page. Â Various beverage packages are available at a per day rate.
The complimentary self-service laundry on Deck 7 is really a plus on longer sailings and for the many who were doing back to back sailings or longer pre and post stays.
Revenue partners include the casino and photo shop on Deck 5 and on Deck 9 is the pool, spa, gym, acupuncture and Botox treatments, as well as dance lessons.
The "crown jewel" is the forward observation lounge on Deck 10. It is often an oasis of tranquility and other times a relaxed area for activities, but always with stunning, sweeping views.
The pool area features many comfortable loungers and big fluffy towels.  For cooler times, cozy blankets are available. ‎ Movies under the stars take place in this area on some evenings.
The spa area is operated by Steiner and services, pricing and sales pitches are typical for that provider. Â Since my last cruise on the Journey, the area is much improved, in particular, the Thalassotherapy Pool area.
‎Interestingly, the White Night party was spot on with some of the most enthusiastic and energetic participation that I have seen at one of these types of events.  The music selection was both age appropriate and well-planned and performed.  This I am sure is due to the experienced and very talented cruise director.
The Drawing Room is also located on Deck 10. Â We had a meeting in that room, which is a quiet library. Â It is a favorite venue for vow renewals.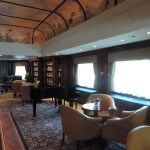 ‎Mid cruise questionnaires are distributed for comments, issues and suggestions and are quickly attended to.  I was left with an overall impression that the crew is committed to being the best that they can be.
There are two (2) guest lecturers on board. Â One lecture covered the history of the area and the other, political science. Â There is also a bridge instructor on board.
Dining packages as well as Wi-Fi packages are also available.  Wi-Fi plans start at fifteen (15) minutes and go to daily unlimited plans.  It is the slower satellite speed, but still very good by ships standards.  For AT&T cell users, there is also a cruise package (details at att.com/cruiseships). ‎
‎Announcements are kept to a minimum and are in English.  Officers are friendly and approachable.
"AzAmazing Evenings Events" are a trademark of Azamara.  They are known for their overnight stays in port.  ‎Be advised to plan around these events, as we were settling in at midnight and the all day tour to Alhambra Palace and Gardens met at 7:45 a.m.  The event was very well done and a there was a unique equestrian show at the bullring in Malaga.  The program was forty-five (45) minutes long, but the logistics of offloading and reloading almost an entire ship adds quite a bit of time.
‎Although Azamara's shore excursions are of good quality, it is perplexing that they do not offer "whisperers" for their walking tours.  When I inquired, they said it was at the discretion of the tour operator.  ‎General impressions that I received from other passengers is that shore excursions are fairly priced and well done. ‎
(Based on a 15-night sailing in November 2015, Madeira & The Canaries, Oceanview Stateroom 4017.)