ASD, Autism Spectrum Disorder, affects one (1) out of every sixty-eight (68) children in the United States.  They occur more often among boys than girls.  While autism appears to be on the rise, it's unclear whether the growing number of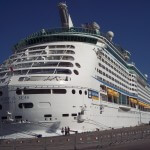 diagnoses shows a real increase or comes from improved detection. (1) See links below.
Royal Caribbean recently achieved Bronze Level as being Autism Friendly. (2)
Royal Caribbean continues to provide a range of Autism Friendly products and services, and they include:
  Priority check-in, boarding and departure

  Special dietary accommodations including gluten-free and dairy-free

  Adventure Ocean grouping by ability (rather than age)

  Adventure Ocean toilet-trained policy exception

  Pagers/phones for parents of children in Adventure Ocean program while signed into our care (subject to availability) (3)
In addition to the Autism Friendly features, another family friendly feature that makes Royal Caribbean a good choice is "My Family Time Dining." Â My Family Time Dining is offered for the first seating time in the main dining room, for children ages three (3) to eleven (11). Â Kids enjoy their meal within 40 minutes of seating, before heading to the evening's Adventure Ocean activities. Â The program starts the second evening you're onboard. Â After that, you can use it each evening or whenever you wish. (4)
Some of the Royal Caribbean ships have DreamWorks themed activities throughout their cruise vacation, featuring characters year-round from some of DreamWorks most popular films, i.e., Shrek, Madagascar, Kung Fu Panda and more. (5)
Depending on the needs of the family, Royal Caribbean offers a wide selection of family friendly cabin configurations. Â Connecting inside cabins may be a good choice if quiet and dark is an advantage. Â Connecting promenade cabins with a bay window overlooking the promenade is a great way to quietly people watch. Â On the new Quantum Class ships there are even interconnecting family suites. (6)
With some ships offering programs for infants as young as six (6) months to two (2) years (with an hourly charge) and other included programs for kids from three to seventeen (3-17) there is a wealth of family friendly activities from rock climbing to shows. (7)
https://www.facebook.com/notes/lee-anne-battiston/the-royal-caribbean-flowrider-girl/10153216840156604
Starting in late October 2015, Royal Caribbean will offer complimentary on-demand access to exclusive content from The Autism Channel aboard most of its ships.  The new program enhances the line's Autism Friendly program, which is designed to provide inclusive cruise vacation experiences for families living with autism and other developmental disabilities.
Update: Royal Caribbean's sister company Celebrity Cruises has completed their Autism friendly cruise certification. Click here for more information: http://www.celebritycruises.com/htmlpage/autism-friendly