If you love interesting buildings, I put together some ideas that I know about that are within a driving loop. Â Picking up a car at XNA near Bentonville, Arkansas would be easy and a little known airline, Allegiant Air, has direct non-stop flights from several secondary markets, but with a very limited schedule. Â Many other airlines service XNA.
The new airport in Hollister/Branson is also a good choice depending on what other activities you have in mind for the area.  Nestled in the hills of Hollister and Branson is the College of the Ozarks, a Christian, liberal arts college located on a 1,000-acre campus.  Christian values, hard work and financial responsibility comprise the fundamental building blocks of the "Hard Work U." experience. The college earns numerous accolades yearly, including being named the #1 Best Value College in the Midwest for 2015 by "U.S. News & World Report."  While there, you must dine at the Keeter Center, the College's four-star lodge, restaurant, and conference facility.
In Bentonville, Arkansas, a must see is the new American Art Museum called  Crystal Bridges .  Both the museum and the grounds are winning high praise.  If you are staying in the Bentonville area we recommend you stay at the 21C Museum Hotel.  It is located on the northwest corner of the Bentonville town square and is a short walk to the museum.
Continue on to Eureka Springs for a visit to Thorncrown Chapel designed by architect E. Fay Jones.  Eureka Spring Arkansas is a quirky artist community full of B&B's and spas, the best known historic hotel is the Crescent Hotel (picture below).
Winding up to Bartlesville, Oklahoma takes you from the Ozark Mountains to the edge of the plains where the only skyscraper designed by Frank Lloyd Wright is now a hotel.  Driving across the plains will take you to a wide place in the road called, Medicine Park.  Its claim to fame is unusual round stones.
Meander back to Arkansas and stop by the Post Winery or stop for a meal at Wiederkerh's, then wind up National Scenic Byway 7 to Harrison and stay at the historic and recently renovated 1929 Hotel Seville.  If time allows detour to the historic town of Hot Springs. Now, the remaining Bathhouse Row structures in Hot Springs National Park are part of a National Historic Landmark District and represent the grandest collection of such bathhouses in North America. Fordyce Bathhouse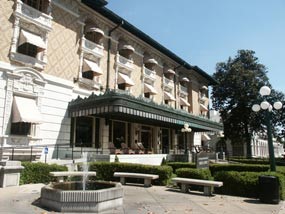 The best time to visit would be spring and fall as winters can be very cold and summers very hot.  Find drive times here and weather here. It's hard to say how many days to allow for this trip as there are so many possible distractions from the Buffalo National River to the call of old Route 66.  This area is known for some of the best routes  for bikers.
Written by Linda Allen (updated 02/25/2014)