Some ships are refurbished and then there is Windstar, ships cut into, rebuilt from the engines up so that they feel better than new because they did not lose the Windstar crew which is the soul of a ship. New meets old seamlessly and every inch is redesigned with touches that make you feel instantly at home.
The Windstar Yachts are all suite ships, the smallest suite is 277 square feet. During the rebuild all areas of the ship in suites as well as public areas were touched and redecorated. Interestingly I prefer the original suites with their wood patina, the only exception to that preference is the bedside and desk outlets in the new suites. The crew areas were also improved, and the main dining room is all new.
Two sister ships the Pride and Legend will sail with the same refurbishments in November 2021 and September 2021. Three tall, masted sailing ships complete the Windstar fleet. The three motor yachts were built for Seabourn and sailed for them with a loyal following until Seabourn built larger ships of 458 & 600 passengers.
I was on the first sailing of the Star Breeze that called at ports after the Covid cruise pause and even though the ship was in a bubble in ports due to Covid restrictions passengers, crew and ports were all so pleased to have ships sailing again. Windstar does not normally sail in the Caribbean during hurricane season, the strong currents did not allow for the use of the Watersports Platform, we did however have the first private beach BBQ which was flawless.
Passengers were adults from late 20's through retirement. No teens or children were on board and there are no children or teens programs or areas. Although there are accessible cabins, I think it would be challenging for someone with mobility issues.
As is true for most small ships, entertainment is limited. Plan on providing any diversions with the exception of puzzles and games in the Yacht Club there is little entertainment until evening and then only music/vocal. Even the library is sparse.
Elevators are plentiful for such a small ship and extraordinarily quiet, the entire ship is quiet. The suites are not only blissfully quite but the blackout curtains and comfortable beds and bedding makes sleeping delightful. The beds are actually wider than twin or queen, our queen at 67" wide would be an Olympic Queen.
The new spa and fitness center was striking. I had a massage and pedicure; both were excellent and do keep in mind that unlike on many ships the sauna and heated loungers are complimentary in the spa area. Coupled with a new pool, expanded deck area, the Watersports Platform and more strenuous shore excursions Windstar has appeal for fitness buffs.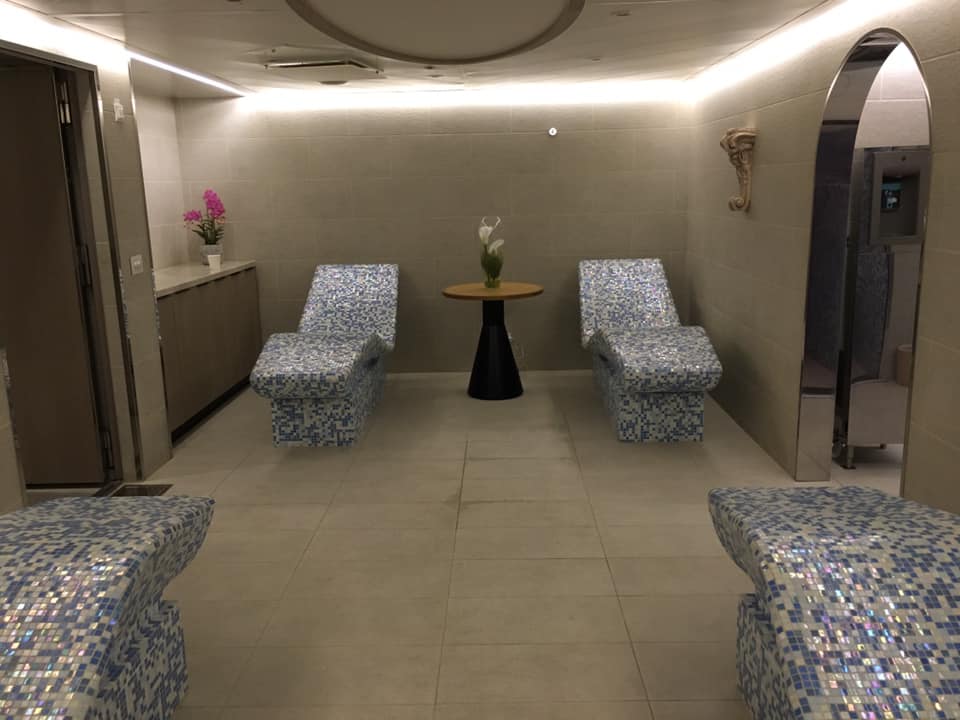 Shore excursion options in the Southern Caribbean are limited on any cruise line. The shore excursion department was efficient, prices were in line with other cruise lines. The excursions operated promptly and efficiently.
Past passengers of Azamara, Viking and Oceania would be good candidates for Windstar. Even after the stretch the ship only increased from 212 guests to 312 and the 204 crew to 312 passengers crew to guest ratio is high.
Our sailing was only at about 40% of occupancy thus not all the venues were operating for all meals. Breakfast and lunch were primarily buffet with a limited selection of made to order items. Room service breakfast was delivered on time and hot items were served on piping hot plates, a decadent luxury on vacation. I found that writing out an order the night before and delivering it to the purser's desk was the easiest way to place our breakfast order.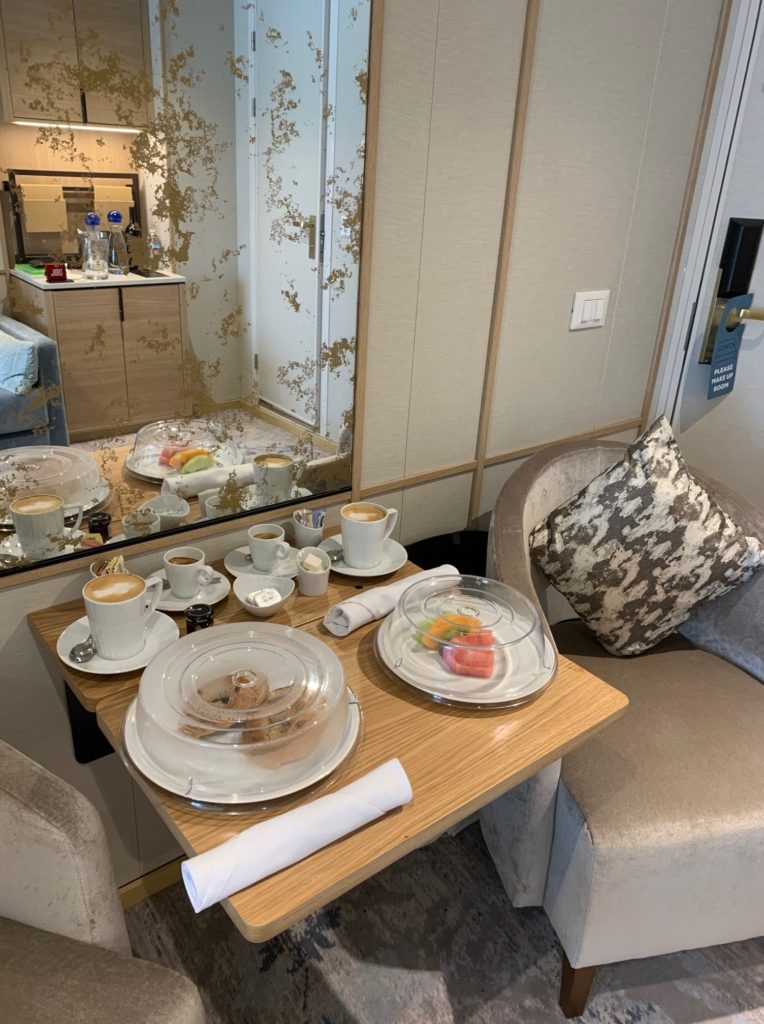 Two new restaurants (one is an outdoor barbecue concept with grilling guru Steven Raichlen and the other a Spanish small plates restaurant from Anthony Sasso, one of the youngest chefs to be recognized by the Michelin Guide). The all new Cuadro 44 is an amazing tapas experience.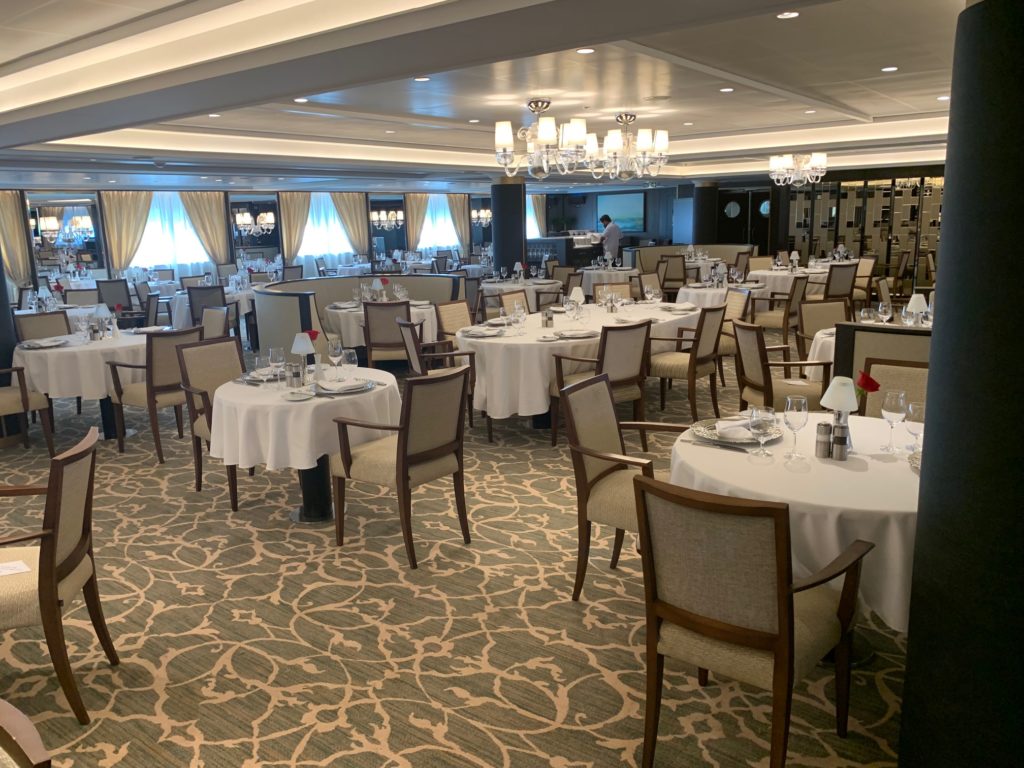 Windstar Cruises is part of the Xanterra Travel Collection, a group of global hospitality and travel companies, one of which traces its history back over a hundred years of operating our country's iconic national parks, including Grand Canyon, Yellowstone, Glacier, Death Valley, and many others. Xanterra Travel Collection is owned by The Anschutz Corporation, the ultimate owner of the Broadmoor, Sea Island, and entertainment giant AEG, Anschutz Entertainment Group.
Windstar Tips
· Do sign up for the 7 for 7 promotions that come out every Thursday. 7 sailings on sale for 7 days at the Windstar site.
· Once you board and check in there are stations to select options such as the specialty restaurants and spa treatments. Before you board have in mind what you would like and sign up at check in as spa and restaurant reservations book up very fast.
· If you drink alcohol, do consider one of the drink packages. The bar staff is delightful, and it does make it seem like an all-inclusive experience.
· Don't dismiss a large picture window suite even if you normally sail in a balcony, the suites are the same and the balconies until you are in a Deluxe Suite are Juliet balconies.
· Windstar is one of the few cruise companies currently offering printed hard copy brochures order at the Windstar site.
· Learn more about the stretch and rebuild.
· Covid vaccination is required and testing prior to flying back was provided on the ship for a fee.
Sailing was on the July 17, 2021, Star Breeze
To put the size of the Star Breeze in perspective she is docked by the Rhapsody of the Seas which is one of the smaller Royal Caribbean ships and 6 times her size. The new Royal Caribbean ship the Odyssey of the Seas is 13 times bigger than the Star Breeze