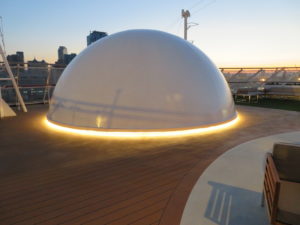 Fifth in a series, the Orion keeps the refined simple elegance of her sisters with the addition of a few notable additions such as the Explorer's Dome a Planetarium/Imax like experience. The décor is Scandinavian in light tones with color accents from nature, nautical blues, new spring green and rusts.
The stars of the ship are her crew. I've never been on a ship with so many crew who sang as they worked. When they spoke about their job their enthusiasm was evident and they felt appreciated. A compliment to Viking management. Also notable is how pristinely clean the ship is, all areas, even when we peeked into crew only areas. We were asked several times by our cabin attendant if there was anything else, we would like and there really was not anything.
For Asia the passenger mix is mature with most being of retirement age. Absent are both a casino and children. Many are repeat passengers, from both Ocean and River and several were sailing back to back segments.
Entertainment is subdued oriented towards educational lectures and music during the day and evening. There are reading nooks scattered about the ship with various titles and genres.
There is generally a show after dinner, varied with some local entertainers such as a Chinese Acrobatic performance. The cruise director's performance one evening was extremely good, he was both amusing and musically talented. Oddly, two nights during the 14-night cruise, movies were shown rather than a show and one night was a pool party. When there was a show the theater was packed, sometimes with standing room only. The alcoves at the back of the theater do not have the same sound system quality of the main theater so do make sure that you arrive very early for a good seat as there is only one performance per night.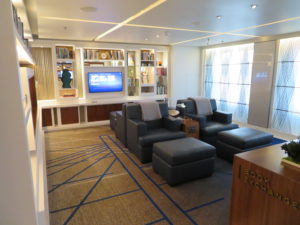 It was rare to see a crowded area with exceptions such as Afternoon Tea on sea days and World Café in port or on the seafood night.
Most things are included from a shore excursion in every port to wine and beer with lunch and dinner. Gratuities on the ship are added to your on-board account, currently $15 per person per day.
Make sure you sign up early for the Explorer's Dome as showings are limited to 26 guests per showing. There are currently 4 shows with the latest being Whales and Dolphins. Arrive a little early and take a jacket as the area is kept cool due to the high-tech equipment. We preferred seating in the back. Of the 4 shows, Mars is not in 3D and was the one I liked the least.
Viking Ocean is oriented towards thinking persons. Enrichment lectures are well attended. Diversions are plentiful from various games on the sports deck to picture puzzles, cards and board games. Conversation areas are scattered throughout the ship both inside and outside. Guests are pleasant and chat freely. Tables for two in the dining room often become conversational groups of 4 or 6.
Afternoon Tea is delightful. I sat with an English man and he pronounced it to be a proper English tea. Scones are baked every afternoon just before the 4 o'clock tea.
Our cabin, 8002, was the most comfortable cabin we have had. Loved the blackout drapes and then a second set of drapes to separate the living area from the bedroom area. It made a dark cocoon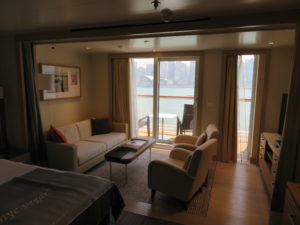 experience which made it easy to sleep even for an afternoon nap. The bath with a huge shower and double sinks seemed even larger with the light color palette and abundant mirrors. The bed and bedding, perfect. I would like to purchase the pillows for our home, when I inquired, I was given the information about how to purchase. (Update: The pillows are made by Mühldorfer. You can visit their website to order.)  An oddity of our cabin, I wondered why it seemed that someone was dropping bowling balls on top of our cabin? Upon exploration that cabin and the one on either side are under the bocce ball court.
Unusual for a ship is the number of positive comments regarding the entertainment system. One of the favorite features is that if watching a movie and leave, it restarts where you left off. Also, several live news channels of various flavors. You can check on board account balances and the weather as well.
One disappointment was the lack of a sit-down lunch except on sea days. I am not a fan of buffets and on a ship the caliber of Viking it was unexpected.
I only signed up for one dinner in each of the specialty restaurants. In hindsight, I would have liked to dine at Manfredi's again, so book it early in your cruise in case you would like to repeat. The ambiance is very nice. The best meal we had was at The Chef's table, there are three different menus, you can see the menus and make reservations at the entry of the World Café. If you have the Silver Spirit's package the wine pairings are included. I am not a fan of lamb, so I asked for beef and it was perfectly done with the same presentation as the lamb.
Tips
*Do consider the Silver Spirit package if you drink alcohol. The bartender's comment that it is an excellent value with most everything included on the ship including upgraded wines at meals.
*Don't forget your swim suit even if you don't swim. The spa with its hydro pool, sauna and snow room are complimentary, only services are additional.
*The Explorer's Dome can be accessed by the forward elevators on Deck 8 port and starboard corridors, enter an unmarked door and open the doors towards the ship's exterior, also unmarked.
*The cookies and ice cream are made on board from scratch and are delightful. I think the desserts overall are some of the best at sea.
*Included internet is a nice perk, but since it is satellite, manage your expectations as it is only slightly faster than my first dial up connection.
*Room service breakfast was served on time or a few minutes early. A wonderful experience when the weather is nice so that you can have it on the balcony….and it was fresh and hot.
*The launderette is a very nice feature and well utilized. It greatly cut down on what we packed. I packed a few after 5 things but did not wear them as Country Club Casual was the attire of most passengers.
*If you are a sushi fan do swing by the World Café for a pre-dinner appetizer. Bob was very happy with the selection and quality.
(based on a China/Japan itinerary in October 2018, cabin 8002)