There is currently only one North American oriented cruise line with regularly scheduled transatlantic sailings, Cunard Cruise Line. Cunard has a long maritime history. The Queen Mary 2 is a true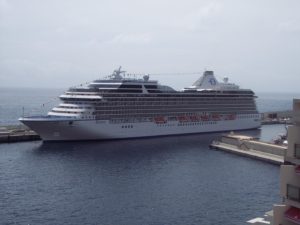 ocean liner purpose built for what can be arduous weather. With deep V hull and state of the art stabilizers this ship is a reliable, comfortable vessel. Since this ship is designed to hold the water well even during turbulent weather she has some steel in-hull balconies for additional structural integrity. Which means to have a balcony with a clear plexiglass panel you need to book the higher balcony cabins.
We frequently book one of the Queens East or West along with a different repositioning for passengers who do not want to do a long-haul flight across the Atlantic.
Interestingly, we just booked a Cunard Eastbound combined with a 25 Night Globus land tour of the UK that ended in South Hampton on the day that the Cunard West bound departed.
Do keep in mind that Cunard is a hold out for the more formal style of cruising and they do have classes of service with the Queens grill offering a luxury experience. Enrichment is a hallmark for Cunard both intellectually and culturally.
Most of the repositioning cruises to and from the East coast occur before or after the Caribbean season which is roughly from Thanksgiving to Easter. A few westbound cruises are scheduled before the start of the Canada/New England fall foliage cruises in September.
Most of the West coast repositioning cruises occur before or after the Alaska season with ships continuing to Sydney or Asia.
After the Mediterranean season look for interesting repositioning cruises that end in Asia. This is when you are most likely to see Holy Lands, Jordan and Petra.
Be careful when booking the Panama Canal as many full transits are repositioning cruises during the rainy season at the equator. True Panama Canal season in the dry season is most reliable mid-December thru early March. To check historical weather data, go to weatherbase.com.
• Who: Demographics for most repositioning and Transatlantics skew to retired passengers. Many travel on the segments before, after or both. For that reason, some repositioning cruises only have guarantees or certain cabins held out for those that are sailing all segments so that they can stay in the same cabin.
• When to book: The most interesting itineraries are heavily booked a year before sailing and for those, passengers who book the earliest have the best pricing and cabin selections.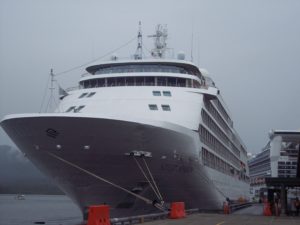 • Where should I be on the ship? As mid-ship as possible and as low as possible for open water crossings. Although guarantee fares may be attractively priced you forego any cabin selection and can only guarantee the category.
• What can I expect for weather? It is hard to say but I've been on a transatlantic that was like glass for the entire crossing and another with moderate seas but have heard tales of heavy seas. which is why it is best to book early enough to obtain a mid ship cabin assignment.
• Air Tip, do ask about air through the cruise line. I've seen cruise line air for open jaw itineraries much cheaper than any other source. When comparing look at one way fares and multicity at matrix.itasoftware.com, a Google product.
Although only anecdotal from my experience and what clients have told me there seems to be a higher preponderance of staff leaving ships just before or just after repositioning so there may be more new crew and more short timers which is more apparent on some sailings than others.
One thing that would seem self-evident but has escaped some clients until I pointed it out is be careful of the really cheap cruises to and from the East coast as it may attract passengers who are not in your demographic. These also tend to have the least interesting itineraries and the most consecutive sea days.
Sea days, loved by many, not for everyone. Many passengers relish sea days. Sea days for others are boring and to be avoided. Personally, I relish one sea day, enjoy a second and start standing at the rail looking for land on the third day. However, compared to long international flights sea days are not an issue at all. This is why those rare repositioning with both interesting itineraries and interspersed sea days fill up so quickly.
Do keep in mind that when you are staying out of the United States for long periods of time that you need appropriate Travel Insurance coverage and this may be a time when you would want to consider a Yearly Travel Protection policy. Even with that read carefully the yearly policy details about the number of contiguous days you can be away from home and any medical look-back.
Repositioning Top picks as of June 2017
• 16JAN18, Oceania Marina, Lima-Papeete, including Easter Island
• 11APR18, Holland America's Volendam, 29 N, Tokyo-Anchorage, extensive Japan

• 04SEP18, Viking Sea, Bergen-Montreal (SOLD OUT)

• 28NOV18, Regent Explorer, Lisbon-Cape Town
• 05APR19, Oceania Marina, NYC-London
• 12MAY19, Silver Muse, Tokyo-Anchorage
• 12NOV19, Azamara Quest, Singapore-Dubai