When I searched for words to describe the Norwegian Jade, "Vibrant" was the one word that came to mind.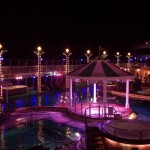 ‎Music plays, laughter waifs through the air and there is an element of pleasant suspense as one waits for the next scene to unfold.The ship has very good bones with an art deco influence. The flow is very good. The atrium is the heart of this ship with an area that serves as a very large living room. There is a huge television that is utilized for major sporting events.

‎Entertainment is a strong point for Norwegian. Among all the entertainers, there is a very talented musician, a comedian as well as an acrobatic duo. Staff musicians are strong. Even the spoofs of such shows as "So You Think You Can Dance" are well attended with enthusiastic audience participation.
The casino is lively with a variety of gaming opportunities from penny slots up.
Food service is typical for a ship this size, but the main attraction was the very accommodating and ‎friendly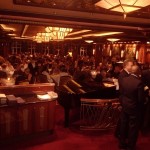 wait staff. Even when we had several people join us mid-meal, they just proceeded flawlessly to please the group. Other times when someone saw a dish they liked better, with only the slightest request, it appeared within moments.
My standard balcony had more than enough storage for two for a week, but it did feel a little tight. I normally recommend mini-suites or higher and they are very well received.  Soft chairs and mattresses are overdue for replacement; an issue that I trust will be addressed soon. ‎
Internet is slower than on land, but much faster than dial-up. There are two computers in the library, as well as several in the Internet Café.
Children seem happy and when I passed by the well-located kid's area one evening, I heard bubbly laughter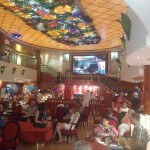 in the background as a pirate checks in a young sailor.
The spa is operated by Steiner. Treatments and prices are typical for that provider. Two of our group indulged in the week long spa pass and thoroughly enjoyed this indulgence. Several in our group enjoyed the spa services and all were very pleased.
Our group chose the Ultimate Beverage as an amenity and they could not have been happier. As I have observed in the luxury market, adding beverages to the inclusions makes for a better experience for the ship, as the ambiance becomes more congenial. ‎
Texas departures attract mainly drive market passengers. One individual in our group who flew in faced a $120 cab fare to a hotel close to the ship. We generally recommend an airport hotel with cruise line transfers for the few that fly. ‎
‎
(Written on a 7-night Western Caribbean Cruise, January 2016)