Holland America's newest ship the Koningsdam is a dramatic departure from the generations of ships before her. Gone are the old-world antiquities and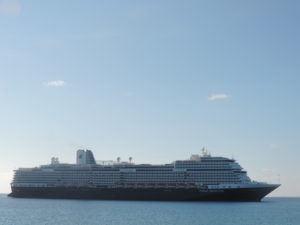 dark wood traditional nautical motifs. Replaced with a new modern look right down to the art. Elegant ships with a modern twist is personified in the Koningsdam.
Target guests are globe-trotting learners who are destination driven and appreciate authenticity. HALs new tag line is "Savor the Journey" which signifies the plan to blend culinary and destination immersion with classic style. Gracious and intuitive service is a hallmark left unchanged.
Although not uniformly known for multigenerational cruises, Holland America has one of the most family friendly programs at sea. Younger Children are divided into two groups and teens have their own hang out area. Frequently Holland America has some of the
best 3rd and 4th rates. Additionally, there are connecting cabin options in many categories and many cabins with 4 true berths rather than a double sofa bed, which is particularly good for families traveling with opposite sex children. Of note, there are even some quint Family Ocean-View cabins with two bathrooms some connect to accommodate as many as 10 passengers.
The main show lounge is attractive, comfortable with good sight lines and sound system. The production shows were well done and enthusiastic with good costuming and sets. Not to be missed "The Frozen Planet Live" is a BBC earth experience with the very talented Koningsdam musicians. Of note, evening entertainment was exceptional at B.B. King's Blues Club with good attendance and dancing in full swing when we retired after 11. Mixology and music have increased importance on HAL. Standard cocktails like Gin and Tonic are well done but the premium mixed drinks at $9.95 are worth the upcharge if you like something different.
The main dining room seems spare, quite different from previous HAL ships. The crew in the dining room is warm and attentive. Food was much more inventive & interesting than on previous sailings. Several specialty restaurants are available and the menus looked varied and interesting. We dined at the Pinnacle Grill, always a culinary delight.
Our balcony cabin was attractive with more than enough storage for a 7 day or longer journey. The bathroom was nice with a very large shower and great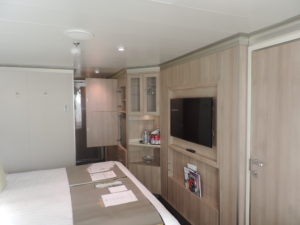 water pressure. The bed is seductive, luring one to linger and sleep in, certainly one of the most comfortable on land or sea. I always warn clients when they request a guarantee cabin or an upgrade is that they can get any cabin in the category they booked or higher. As I sit in my upgraded connecting cabin I can hear noise from the connecting cabin. Not unusual for hotels or ships, but something I personally avoid on land and sea.
I don't watch movies often but the in-room movie selection seemed very good. We did watch an interesting movie that featured two computer programmers as the lead characters, EX_MACHINA was captivating if unlikely and cause for thought. There was also a good selection of live news stations.
America's Test Kitchen is an exciting new partner who will take charge of the demonstration kitchen.  Home cooks rely on and respect America's Test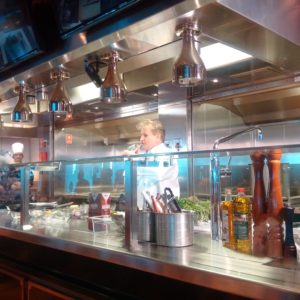 Kitchen and the demonstration we attended was entertaining and informative. Bob is an avid fisherman and he plans on trying the fish recipe at home.
Tips
Pack a couple of post it notes to cover the bright blue night-light as the rest of the room is pleasingly dark with light-blocking drapes. I did not have any post-it notes but a band-aid did the job.
Dial 90 for Guest Services, 0 only gets you a recording.
There are some chair + 1/2 seats for guests more comfortable with a larger width seat in the main show lounge. The ones I noticed were at the back of deck 3 near the entrance.
The outdoor bar on the fantail of deck 9 offers 2 for 1 + a buck on German beers all the time.
Take time to smell the roses……the Koningsdam had some stunning floral arrangements, certainly as lovely as I have seen on land or sea.
The safety drill was unusual. Unless one is comfortable walking down all the stairs from their cabin to the muster station they should plan on watching the video in their cabin and then arrive at their muster station about 15 minutes before the scheduled drill via elevator.
Destination guides partnered with AFAR provides a resource for dreaming.
Odds and Ends
There are 12 dedicated single oceanview cabins with attractive pricing for solo travelers; all are located all the way forward on deck 1. Not the best location, but good to know for a budget conscious cruiser or even for a couple with "snoring issues".
Koningsdam itineraries are currently loaded through first quarter 2018.
Eurodam and Oosterdam have been revitalized with other ships in queue to provide many of the same amenities available on the Koningsdam.
Nieuw Statendam coming out late 2018 will be a Sister to the Koningsdam with slight modifications.
(this report was written on a 4-night sailing, November 2016 in cabin VQ 10038)