Princess is turning 50……but the brand is being reinvented to be vibrant and engaging for the curious.
Princess is intent on increasing demand for cruising overall.
The aim is to surprise and delight and thus improve demand for Princess. Â Meaningful travelers are the target passengers who focus on memories and experiences. Â Creative and new itineraries are a big part of that push.
There is a new emphasis on family and multi-generational travel, teens and kids programs with special TV programs and shore excursions. Â Additional emphasis will be placed on celebrations with honeymoon registry and weddings at sea.
EZAIR improvements:Â  Redesign to make it more attractive and easier to use with more filters.
‎4 new features:
One way air
TWID air can mirror air starting Nov 10.
Group air now available for more than 10 can request quote
One click air in Dec 15 default to A/S rather than C/O.
Klout score is 88, highest in the industry.  Social media is being utilized including Youtube 
New Partnerships:
Chocolate Journeys with Norman Love
Seawitch Pale Ale newly created craft ale, just for Princess.
Discovery at Sea including stargazing‎
Princess at Sea is a source of information designed for mobile devices while on the ships.
‎Complimentary at sea messaging while on board and bandwidth will be improved with a "smart hybrid" technology that will improve speeds 10 times current.
New ship coming in 2017
18 ships to fill
Princess is focusing on the crew as happy crew make for happy guests.
Production shows will be enhanced.
Night Sky Lounge will be in the Serenity area.
Gastro Pub on 3 ships in the Wheelhouse Bar in 2015.
There will also be a new Princess Gift Card program.
2015 Rose Parade float for the 50th anniversary.
New menus, drinks and cocktails and pizzas as well as well as new 50th logo
Each sailing will have a 70's disco party and atrium party with surprises in the balloons.
Festivals of the World special theme cruises.
New Category Type: Deluxe Balcony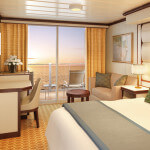 Stateroom Number: M130
Category: DF Location: Forward Deck: 15 (Marina) Bath Type: Shower Total Size: 233 sq. ft.